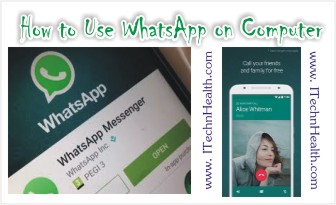 How to Use WhatsApp on Computer?
Many people around the world

use the powerful communication tool WhatsApp and it's easier than any other form of communicating. For some of them this is the only way to interact with people.You can use WhatsApp and work in the same time on your PC or Mac by accessing WhatsApp in your browser. The method of using WhatsApp is very easy you just have to follow these simple steps:
1. On your computer visit the Web version of  WhatsApp or click on the WhatsApp icon on the top of this website.
2. Start your mobile WhatsApp app on your Android or iOS device.
3. On your device: go to Chats screen and tab the menu icon (the icon with the dots) on top right corner and select WhatsApp Web.
4. With your device: scan the QR code from your computer screen.
As soon as the scan is completed the desktop app opens your WhatsApp account and now you can use it from your computer, by selecting 'keep me signed in' means you will not have to repeat the QR scan again.
After you scan the code, you'll be able to see your WhatsApp messages on your phone and in the browser. You won't need a Wi-Fi connection for your phone, but WhatsApp recommends connecting over Wi-Fi to avoid using too much mobile data.
When you're using WhatsApp on a computer, your phone will still need to have a data or Wi-Fi connection. That's because the platform essentially mirrors the app on your smartphone. So if, for example, you're traveling in another country and your phone doesn't have a connection, you won't be able to use WhatsApp on another device.
Requirements To Use WhatsApp 
According to WhatsApp's support page, you can use either WhatsApp product (Web or desktop app) if your phone is one of the following:
Android

iPhone 8.1+

Windows Phone 8.0 and 8.1

Nokia S60, Nokia S40 EVO

BlackBerry and BlackBerry 10
You can also read my posts about Use of WhatsApp.
Use all Messengers in one App WhatsApp, Facebook, Messengers, Skype & Other Messengers