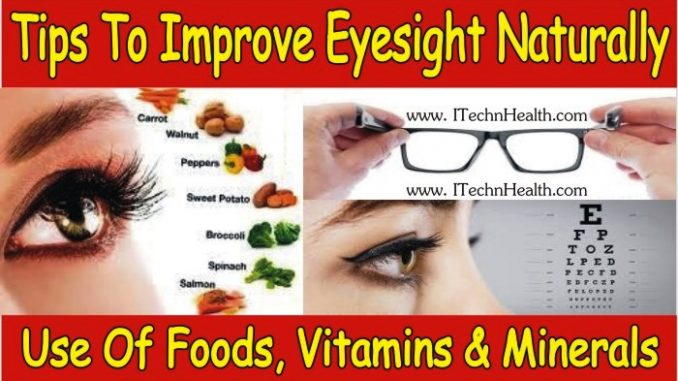 Just like every other part of our body, our eyes also need vitamin, zinc, lutein, omega 3 fatty acids for better eyesight. We can find these nutrients by consuming fruits and vegetables that will protect our eyes and boost our eyesight.
Vitamin is also very useful for eyesight. The key vitamins that help to improve eyesight are Vitamin A, Vitamin E, Vitamin C, Vitamin B6, B9 and B12. These vitamins play a crucial role in vision by maintaining a clear cornea, which is the outside covering of our eye.
Vitamin C is a nutrient critical for maintain good eye vision. Vitamin C has anti inflammatory and antioxidant properties that help decrease the risk of eye disease.
Raw red peppers have also rich in vitamin C. Maximize your intake of vitamin C by eating fruits and vegetables that contain these nutrients. The recommended amount of vitamin C for adult women is 75 milligrams per day and 90 milligrams per day for men.
Vitamin E is another antioxidant vitamin that is critical to eye health. Vitamin E helps to protect fats that make up cell membranes. The retina of the eye is rich in fatty acids, so an antioxidant protection is critical for the eyes. The main source of vitamin E is sunflower seeds, almonds, peanuts and butter.  The recommended amount of Vitamin E for adult women is 12 milligrams per day and 15 milligrams per day for men.
Eye exercises to Improve eyesight are touted as ways to naturally improve eyesight but we can't correct our vision without professional help.  If you want to improve your eyesight then it is best way to use natural food because they are good nutrition that can improve eyesight naturally.
The best way to improve your eyesight naturally is to give your eyes what they need to be healthy. Green leafy vegetables like spinach, kale, and collards. Salmon, tuna, and other oily fish. Eggs, nuts, beans, and other nonmeat protein sources. Red and green bell peppers, grapefruit, strawberries, broccoli and kale. Oranges and other citrus fruits or juices are natural source for improve eyesight.
Dark leafy greens like collard greens kala and spinach are rich in vitamins C and E. Broccoli, sweet corn, and romaine lettuce are good sources of these nutrients too. These goods are not just good for our eyes, but they help prevent other health problems too.
Some studies show that vitamins D decreases the risk of age related macular degeneration. Fatty fish like swordfish, tuna, and salmon contain vitamin D, milk beef liver, eggs and cheese are also good source of vitamin D. You can also get Vitamin D from sunshine.  The recommended amount of Vitamin D for adult women is 600 IU per day and 800 IU per day for men.
Omega-3 fatty acids boost the health of blood vessels. They can reduce the risk of macular degeneration and glaucoma. Insufficient levels of these fats may contribute to dry eyes.
ZInic is a mineral critical for the function of many enzymes in the body. It also maintain healthy eyesight. Its function is as an antioxidant, boosts immune function and is a constituent of cell membrane and proteins in the body. Crabs, dark turkey and dark chicken, yogurt, milk corn flakes, cheese, cereal, cashews, almonds, eggs, beans, legumers & plant based food are good source of zinc mineral. Zinc deficiency is associated with vision problems, immune system problems, skin problems, and psychological disorders. The recommended amount of zinc for adult women is 8 milligrams per day and 11 milligrams per day for men.
How To Improve Eyesight Naturally, Foods, Vitamins & Nutrients To Improve Eyesight-Foods To Improve Eyesight In Urdu-how to improve vision in 7 days-how to improve eyesight in one month-foods to improve eyesight-how to improve eyesight naturally at home-eye exercises to improve eyesight-how to improve eyesight by yoga-can eyesight improve-how to improve eyesight naturally ayurveda-Use Of Zinic To Improve Eyesight- Use Of Omega-3 To Improve Eyesight- Use Of Vitamin D To Improve Eyesight- Use Of Vitamin C and E To Improve Eyesight- Foods To Improve Eyesight
Benefits Of Drinking Milk For Skin, Stomach And Sharp Memory
Badi Elaichi Ke Fayde, Elaichi Benefits And Side Effects In Urdu
Sonf Ke Fawaid – Saunf Ke Fayde – Health Benefits of Fennel Seeds
Easy Home Remedies For Eye Infection Treatment of Conjunctivitis