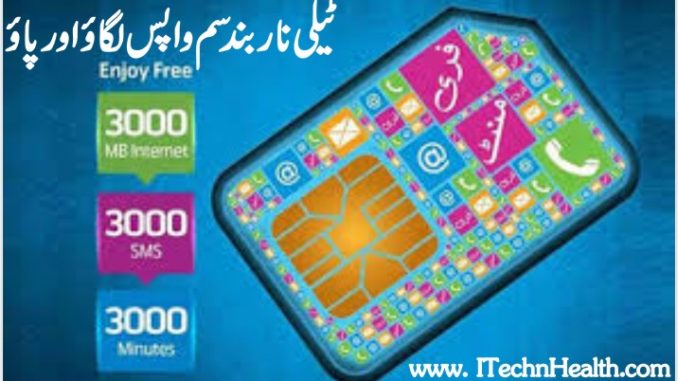 Good News Telenor SIM Lagao offer 2018 announced. Insert your Telenor SIM right now and get free internet MB'S, SMS or unlimites free on net minutes absolutely free. This offer is for limited time. Telenor customers can enjoy free Telenor to Telenor minutes, SMS and mobile high speed mobile internet for next 30 days by reinserting their inactive SIM into the phones and enjoy Free Internet, SMS, Minutes.
The offer is called Telenor SIM Lagao Offer 2018. This is a golden chance for those Telenor customers who have an inactive Telenor SIM and did not used SIM since November, 2017. If you did not know anything about this offer then read its complete information from given below table.
Before placing SIM on your mobile, you can check your eligibility by calling to Telenor helpline.
You can avail this offer by sending the simple SMS from their unused SIM. Just Send "FREE" to 2222 or dial 2222 to activate SIM lagao offer.
Telenor will reply you back with offer confirmation through SMS. After subscribing the Telenor SIM lagao offer Telenor users can use free 3000 Telenor to Telenor Minutes, free 3000 SMS to other networks and free high speed 3G/4G 3000 MB Internet. 50 Free minutes, 50 Free SMS and 50 MB Free Internet will be posted every day for next 30 days.
60 Days
Call 2222 or SMS "FREE" to
2222
3000 Minutes + 3000 SMS + 3000 MB
Check free minutes on Telenor                  Code: *222#
Check free SMS on Telenor                          Code: *111#
Check free Internet MBs on Telenor       Code: *999#
Dial/Call 2222 (Rs. 0.20 + tax will be charge) or send SMS "FREE" to 2222 (Rs. 0.20 + tax will be charge) to subscribe free minutes, SMS and 3G Internet.

Telenor reserves the right to withdraw the offer at any time. Bonus will be posted within 2 hours from the time of subscription.
On each usage of Rs 8 customer will get extra on-net 100 minutes and validity of free minutes are same night 12:00.

This offer is only valid for Talkshawk prepaid customers.

Extra 0.84% price will be charged in following regions of Balochistan, Gilgit Baltistan, Federal Territory and AJK.

If the qualifying customers have lost/damaged their SIM they can get a replacement SIM free of cost (Only once) from any Telenor Franchise during the duration of this campaign.
Zong Full Gup Package –Zong Pora Din Free Baat Package Detail
Zong Super Student Bundle- Zong Introduces Super Student Bundle in Just Rs. 5
Zong Student Packages- Zong Introduces Student Bundle in Just Rs. 3
Ufone Internet Packages Daily, Weekly, Monthly Prices and Unsubscribe Code
Ufone Internet Packages Daily, Weekly, Monthly Prices and Unsubscribe Code