Zong, Jazz, Ufone, Telenor 4G/3G Packages Detail and Rates in Pakistan
In this post I will share 4G/3G Packages details and rates of different Pakistani mobile companies  Zong, Jazz, Ufone, Telenor 4G/3G Packages Detail and Rates in Pakistan
I can not recommend you any specific package, but this post will  help you to compare packages as per your need and budget. Here you can see combine packages of all mobile companies, Zong, Jazz, Ufone, Telenor and Warid all these companies also uploaded there packages in there websites but here you can easily compare all these packages. In Pakistan only Zong and Warid are offering 4G service all other companies provide 3G Packages.
Zong 4G LTE Packages Details and Rates
Zong which is the only Network for providing 4G Internet in Pakistan announced its 4G LTE packages, Zong was the only network able to win license for 4G few months back.. Pakistan is included in 76 countries of the world where 4G LTE is available for the users.
Here are the Five 4G LTE packages which Zong has announced:
1 per month Premium 2 GB data: Rs. 350
2 per month Premium 4 GB data: Rs. 650
3 per month Premium 10 GB data: Rs. 1500
4 per month Premium 20 GB data: Rs. 2500
5 per month Premium 30 GB data: Rs. 3500
Jazz 3G Packages Details and Rates
Mobilink has won the 3G auction with Telenor, Zong and Ufone. Jazz offer minimum daily package in just 12 reupees. All other cellular operator companies in Pakistan are providing 3rd generation service in 5 MHZ, while Mobilink is providing the same with 10 MHZ, Zong super speed is also available with great speed. Both Zong and Jazz are offering relatively fast 3G Internet. Till now Jazz has more customers than any other cellular service providing company in Pakistan.
Mobilink 3G Prepiad Package 2016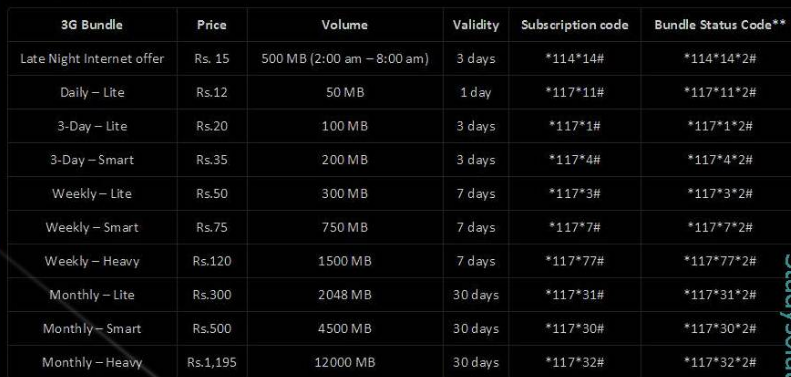 Mobilink 3G Postpaid Package 2016

Telenor 3G USB Dongle Packages
Since the arrival of 3G and 4G in Pakistan different Mobile networking companies are trying hard to grab maximum customers by offering attractive 3G Packages and USB Dongles. This time its Telenor Introducing the 3G USB Dongle at attractive prices.
Telenor 3G USB Dongle Packages available for daily, weekly, 15 days and monthly packages unlike other USB dongles which are available only on monthly charges basis. Users can change the packages any time according to their will.
It is available at price of 2500 along with which users will get 1500 MB Internet for 3 months for free.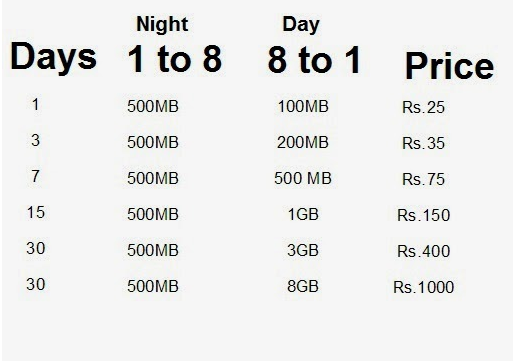 Ufone 3G Internet Packages 2016
Ufone 3G prepaid package starts with just 5 rupees and postpaid package starts with 200 rupees.
Ufone Prepaid Package 
Ufone Socail Buckets 
Ufone Postpaid  package 
Warid 4G Internet Packages 2016
Warid has launched its 4G LTE service in Lahore, Islamaabad, Karachi, Rawalpinid, Faisalabad, Gujranwala and many other cities of Pakistan. Warid has announced its package for prepaid and postpaid customers. Deails of Warid 4G packages 2016 with prices and activation details is available in the image given below.
Warid 4G LTE Prepaid Packages 2016

Warid 4G LTE Postpaid Packages 2016
Zong, Jazz, Ufone, Telenor 4G/3G Packages Detail and Rates in Pakistan