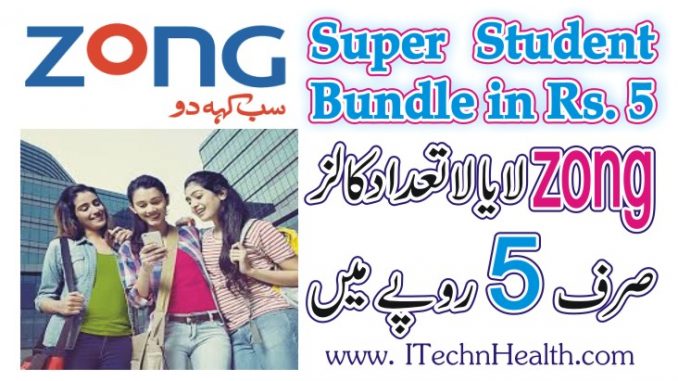 Zong Super Student Bundle- Zong Introduces Super Student Bundle in  Rs. 5
Zong, Pakistan's First 4G network provider, always come up with some exciting offers for its users. With Super Student Bundle, get the freedom to make unlimited calls to all Zong numbers and enjoy the fastest data network for any 2 hours of your choice in just Rs. 5 + tax. With this offer, users will stay connected with their friends and family members.
How to Subscribe Zong Super Student Offer

TO DOWNLOAD ZONG STUDENT CALL PACKAGES DETAIL ON YOUR PC OR MOBILE CLICK THE LINK GIVEN BELOW
This offer provides the facility to users to make unlimited calls to all Zong numbers. Not only this, they can also enjoy 30 MB mobile internet. However, this offer is valid only for two hours. After two hours, the package will be expired. This is not an auto-recursive offer. Users need to subscribe the offer again if they want to subscribe it again.
How to Unsubscribe Zong Super Student Offer
This offer will automatically deactivate after two hours from activation time.
Terms and Conditions
Validity is for 120 minutes from time of subscription

Mobile internet usage is capped at 30 MB

Bundle is not auto recursive

Call setup charges of Rs. 0.15 inclusive of tax apply on every outgoing call

Out of bundle charge for data is applicable at Rs. 1 + tax / MB

This offer is for prepaid subscribers only

Advance Income Tax of 12.5% applies on recharge/bill

5% Sales Tax will be applicable on All Data bundles subscription, Default Internet usage and Out of Bundle usage charges in Baluchistan, KPK, Punjab & Sindh Province

5% Sales Tax will be applicable on All Voice and SMS bundles subscription, Voice and SMS Usage in Baluchistan, KPK, Punjab & Sindh Province. 17% Sales Tax/FED on Voice & SMS subscription and usage is applicable in rest of Pakistan
Zong Student Packages- Zong Introduces Student Bundle in Just Rs. 3