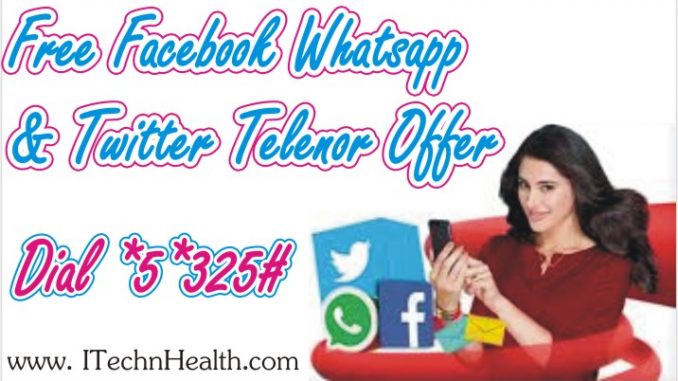 Now enjoy the best social package you can think of. Get access to Facebook, Twitter & WhatsApp for the whole day and experience the best internet services. Telenor has launched free Facebook, Whatsapp and Twitter up to 100MB per day. With Telenor, free facebook,  Telenor and free WhatsApp you can stay connected with your friends and family even without paying anything.
Dial *5*325#

 and get free 100MBs for Facebook, Whatsapp and Twitter everyday.
This 100MB will expire everyday and you have to re-subscribe this offer daily.
This offer will be valid for 1 day of usage with 100 MB.
You can use upto 100MBs per day. Data usage above 100MBs will also be charged as per your package plan.
1. All prepaid customers, both Djuice and Telenor subscribers, can avail this offer to enjoy free Facebook, WhatsApp and Twitter.
2. Package needs to be re-subscribed everyday after using 100MBs.
3. Telenor does not give unlimited usage of WhatsApp and has only provided a limited amount of 100MBs unlike Zong offer named as "Free Unlimited WhatsApp Offer" that will give unlimited Free Facebook, Whatsapp & Twitter Offer.
4. Third party and external links from Facebook, Twitter & WhatsApp will be charged separately.
5. The bundle has a Fair Usage Policy of 100MBs.
6. This service is available for both 2G & 3G customers.
7. This offer can only be subscribed once per day
Zong Full Gup Package –Zong Pora Din Free Baat Package Detail
Zong Super Student Bundle- Zong Introduces Super Student Bundle in Just Rs. 5
http://itechnhealth.com/zong-student-packages-zong-introduces-student-bundle-in-just-rs-3/ http://itechnhealth.com/zong-facebook-packages/ http://itechnhealth.com/ufone-monthly-din-bhar-offer/ http://itechnhealth.com/ufone-monthly-internet-packages-detail/ http://itechnhealth.com/ufone-weekly-internet-packages-detail/ http://itechnhealth.com/ufone-daily-internet-packages-detail/ http://itechnhealth.com/warid-hourly-and-3-day-call-packages/ http://itechnhealth.com/warid-daily-weekly-and-monthly-call-packages/ http://itechnhealth.com/zong-jazz-ufone-telenor-4g-3g-packages/