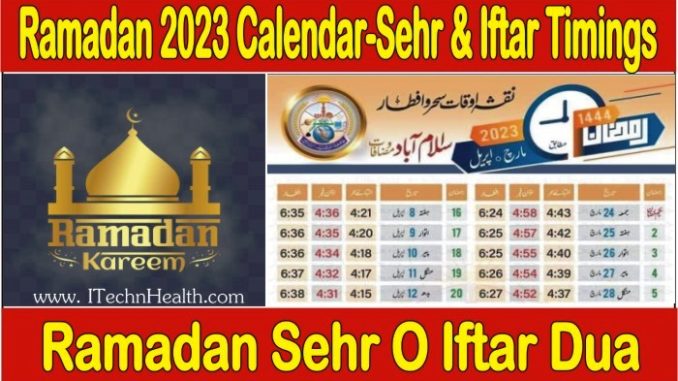 قرآن پاک میں ارشاد باری تعالیٰ ہے! اے ایمان والو! تم پر روزے فرض کر دئے گئے ہیں جس طرح تم سے پہلے لوگوں پر فرض کئے گئے تھے، تاکہ تم متقی ہو جاو۔ (البقرہ۔ 183)
آپ صلی اللہ علیہ و سلم نے فرمایا! تین آدمیوں کی دعا رد نہیں کی جاتی : 1۔عادل حکمران، 2۔ روزہ دار حتی کہ روزہ افطار کر لے۔ اور مظلوم۔ (ترمزی # 3598حدیث حسن)
آپ صلی اللہ علیہ وسلم نے فرمایا! ہر چیز کی زکوۃ ہوتی ہے اور جسم کی زکوۃ روزہ ہے۔ (ابن ماجہ حدیث 1745)
Ramdan 2023 will begin in the evening of Thursday, 23 March and ends in the evening of Friday, 21 April (Date may vary). This is the tentative date as the actual date is contingent on the sighting of the moon of Ramadan.
It is predicted that Ramadan 2023 in Saudi Arabia will fall on Thursday, March 23, 2023 and followed by Eid al Fitr festival on Friday, April 21, 2023.
According to the lunar calendar, Ramadan 2023 will be likely to fall on Friday, March 24, 2023 in Pakistan and followed by Eid al Fitr festival on Saturday, April 22, 2023.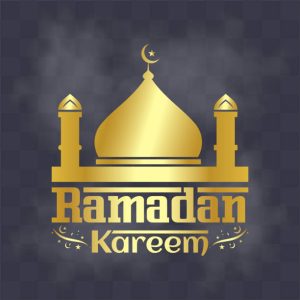 Ramadan 2023, the 9th month of the Islamic Calendar, is considered one of the most blessed months in Islam. Muslims fast during this month. Fasting in the month of Ramadan is obligatory for Muslims and is one of the five pillars of Islam. Muslims are not only supposed to refrain from eating and drinking during the stipulated timing but they are also required to curb all negative emotions like anger and prove themselves to be the perfect Muslim. Moreover, the Quran was also completed in this month. Lailat ul Qadr, also called the 'Night of Power' is one of the most coveted nights of the Islamic Year. It is one of the last ten odd nights in the month of Ramadan and is full of blessings.
Ramadan may be the 9th month of the Islamic calendar. Ramadan 2023 Calendar, the ninth month in the lunar-based Muslim calendar that comprises 354 days. The Gregorian calendar is a solar calendar and the Islamic calendar is a lunar calendar. This difference means Ramadan moves in the Gregorian calendar approximately 11 days every year. The date of Ramadan may also vary from country to country depending on whether the moon has been sighted or not. Here you can find Ramadan Calendar 2023 timings and fasting schedule of Sehr-o-Iftar for Pakistan and some other Muslims countries. You can access the authentic Ramadan timetable for Sehr o Iftar online here.
Here you can find accurate Ramadan Timetable and Ramadan Calendar 2023 for Islamabad.


Ramadan 2023 Calendar With Sehr and Iftar Timings 2023-Ramadan 2023 Sehr and Iftar Timings-Ramadan 2023 Calendar-Ramzan Namaz Timing Schedule- Ramzan Namaz Timing Schedule Karachi- Ramzan Namaz Timing Schedule Lahore- Ramzan Namaz Timing Schedule Islamabad- Sehr o Iftar  dua- Download Ramadan 2023 Sehr and Iftar Timings PDF Format-today iftar time Islamabad-today sehri time Islamabad-sehri time in islamabad today fiqa hanafi-sehri time islamabad today 2023-sehri time islamabad sunni-today iftar time in rawalpindi-sehri time in islamabad today fiqa jafria-today sehri time in rawalpindi-fasting schedule of Sehr-o-Iftar
Ramzan Ka Wazifa In Urdu- Ramzan Main Aulad Pane Ka Wazifa-Ramzan Main Dolat Mand Banne Ka Wazifa
Benefits of Surah Yasin In Ramzan Main Surah Yasin Parney K Faidy
Rozay K Masail In Urdu, Rozay Ki 19 Ghalat Fehmiyan Aur In Ka Asala
Important Advice for Fasting Diabetes Patients During Ramadan