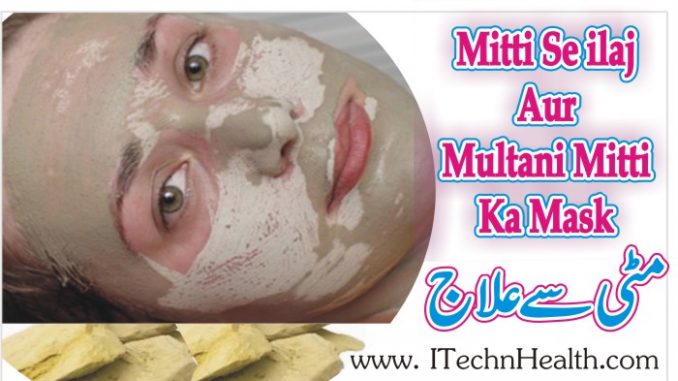 Mitti Se ilaj Aur Multani Mitti Ka Mask
Mitti bagair peso keh mil jati ha is lehe aksar log is se sahi fida nai le pate. Puranay zamaney main gurbat ki waja se log mitti se ilaj karte the aur is se fida utahaya theey. Yahan per kuch totkay share kar rahan houn jin ko istam kar k aap gar main he mitti se fida utay saktain hain.
Chikni Matti Se Phoray Ka ilaj
Tori se chikni matti lain. Is matti ko apny Phoray per rak kar patti kar dain. Kuch din tak ye pati rozanay kartey rahen. 2-3 din main mitti apnay asar dikhaye ge aur "Phora" phat kar saaf hogaye ga.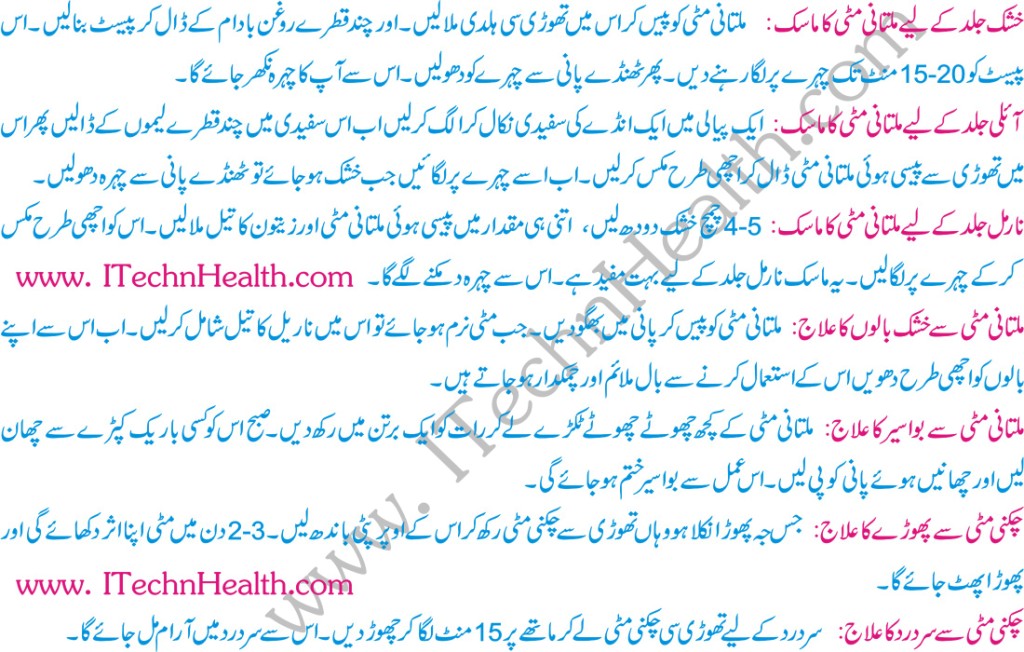 Mitti Se Saar Dard Ka ilaj
Zameen ke andar ki chikni matti lain. Is matti ko thanday pani main rak dain. Pir is geeli matti ko apny "Mathy" pe ½ gantey k lehe laip dain matlab laga rehne dain, Ye amal 2-3 din tak karain,  2 din main saar dukhna band hogaya ga.
Multani Mitti Ka Mask
Multani Mitti is a perfect beauty mask trusted by women for years. It works for every kind of skin. Women or girls with any kinds face skin can use it to improve their beauty. Here you can learn how to make Multani Mitti Mask in Urdu for oily skin, dry skin and for normal face skin.
Kachie Multani Mitti main 1 egg ki sardi dalain pir is main 1 Tablespoon Honey mix karain. Itna mix Karen k ye paste ban jaye. Is paste ko apny moun par laga lain. Charey ka koi hesa kali na rahe, jab matti belkul sook jaye to chery ko tanday pani se wash kar lain.
Multani Mitti Ka Mask For Dry Skin
Multani mitti ko peis (graind) kar is main tori se Haldi mila lain aur is main torey sa Rogane-e-Badam b milay lain. Is paste ko Chery pe laga kar 15 minute chor dain. 15 minute k bad cheery ko wash kar lain. Is paste sy dry skin kobsorat ho gae ge.
Multani Mitti Ka Mask For Oily Skin
1 andy ki safidi elag kar k is main kuch droo lemon k dalain is main tori se multani mitti mix kar lain. Ab is ko cheery pe lagain. Jab Koshk ho jaye tu tandy pani se wash kar lain.
Multani Mitti Ka Mask For Normal Skin
Take 4-5 Tablespoon Dry milk, multani mitti aur pir is main  Olive oil dal dain in sab ko achi tara mix karain jab paste ban jaye tu is paste ko moun par laga dain. 15 minute k bad moun ko wash kar lain.
Treatment of Dry Hair With Multani Mitti
Tori se Multani Mitti lain is ko achi tara graind kar lain pir is mitti ko pani main dabou dain. Jab matti narm ho jaye tu is main coconut oil is main shamal kar lain. Ab is mixture main apney balon ko achi taray wash karain. Is ko istamal karney se bal naram aur shiney ho jain ge.
Multani Mitti Se Bawaseer ka ilaj
Tori se multani mitti k piece lain. Raat ko soney se pehley in pieces ko kisi partan main dal k is main pani dal dain. Soba is pani ka ooper wala hesa chan lain aur is chany howee pani ko pee lain. Kuch dino main Bawaseer katam ho jaye ge.
Treatment of piles in urdu– Multani Mitti Se Bawaseer ka ilaj–Treatment of Dry Hair With Multani Mitti- Multani Mitti Ka Mask For Normal Skin- Multani Mitti Ka Mask For Oily Skin- Multani Mitti Ka Mask For Dry Skin- Multani Mitti Ka Mask- Chikni Matti Se Phoray Ka ilaj- Mitti Se Desi ilaj
Make Skin Whitening Cream at Home | Fairness Skin Whitening Cream