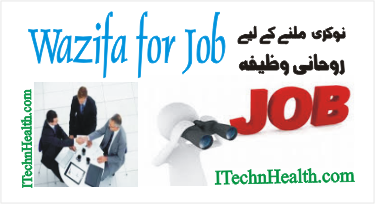 Due to increase in population crisis of jobs is also increased. This wazifa help you to get job, if you have a job already then it will help for your promotion.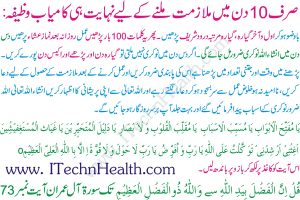 Darood Sharif 3 Times
Recite Ayat ul Kursi 1 Time
Surah Fatiha 3 Times
Surah Ikhlas 3 Times
Recite "Ya Wahhabu" 1000 Times
Darood Sharif 3 Times
After every Namze. Recite Surah Yasin after Fajar prayer. Offer Ishraq prayer after the sun rises. Recite Surah Al-Shams, Al-Lail, Al-Zuha and Alam Nashrah in four rakats after Surah Fatiha and pray one Surah in one rakat. Follow the sequence of Surahs in rakats. Read "Ya-Basit" 10 times after Fajr while lifting up hands. Recite Surah Waqia after Maghrib and Surah Mulk after Isha Prayer. Recite "Ya-Lateef" while connecting your hand to your neck before the 'Vitr' namza. All thetse recommendations are appropriate.
Inshall you will get job soon.

Wazifa for Job
Download Unique Calendar 1947-2047 – Calendars fro the 20th and 21 Century – New Year Calendar 2018