How to Reset Android Lock Screen Password and PIN Code
All Android phones have built-in fingerprint scanners to access Android phones with a simple touch or swipe of your finger. Android normally secures your device by demanding a PIN, pattern, or full password. If you forget your screen password causing great problem because only nine attempts to guess password are allowed. Your phone is not useless if you forget the unlock code. There is a method to make your phone usable again through your Google account's username and its password. You can reset your PIN or password remotely via the web browser or app version of Android Device Manager. Here are the steps you need to take to reset your PIN or password remotely so you can access your Android phone.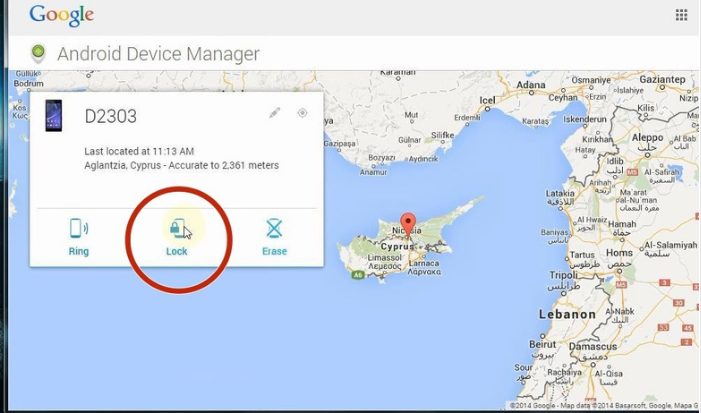 Make sure that your locked phone is on and Wi-Fi signal emanating from your locked device in order to communicate with it and it must have installed Google account.

Launch Android Device Manager by typing "Android Device Manager" on web browser or click on link given below:- https://www.google.com/android/devicemanager.

Log on with your Google account. Enter in your account and Google will start searching your device.

When you are on Android Device Manager, you will bring up the same screen whether you are on a browser or app. This screen includes a map as well as a box that shows the devices associated with your Google account.

Now you have a few options such as "Ring" "Lock" and "Erase." Ring is used for locating your phone if you misplaced it. Erase is for phones that you lost outside your house and you want to do a factory reset.

If you forgot the lock screens passwords, Tap on "Lock". This will launch a screen that allows you to change the lock screen PIN for your device. Enter your new PIN and until you get a prompt that says Android Manager has sent the information about the change to your phone.

You will now have an option to enter your new PIN. Enter the PIN and your device should now be unlocked. Your current lock screen will be replaced with a password lock. Don't use your Google account password.
Some Important Suggestions To Remember
Always Turn on location services it you turned off then you get a message that says Location unavailable. Due to this things would not go smoothly.

Ensure your device has full compatibility with Android Device Manager in the future in case of emergency.

Android used to have a way to bypass your PIN or password, but that feature was removed in Android 5.0.

Older versions of Android, Android 4.4 KitKat and older have an integrated way to bypass your pattern, PIN, or other password if you forget it. To find this feature, first enter an incorrect pattern or PIN five times at the lock screen. You will see a "Forgot pattern," or "Forgot password" button appear. Tap it. Now you will be prompted to enter the username and password of the Google account associated with your Android device.

If you're having trouble remembering your Google account details, then visit the Google Account Recovery website on your computer or laptop and work through the provided steps.

Your last option is to perform a factory reset through the recovery mode menu, but this will erase everything that's on the phone. Your apps, photos, music and settings will be deleted. Also, keep in mind that your phone may have Factory Reset Protection (FRP). It's turned on by default in every Android 5.1 device (and later) to deter thieves from stealing your phone.
Best Affordable Android Smart Watches, Prices, Specification
Download QMobile PC Suite Latest Version for Windows XP, Winnows 7 and 8