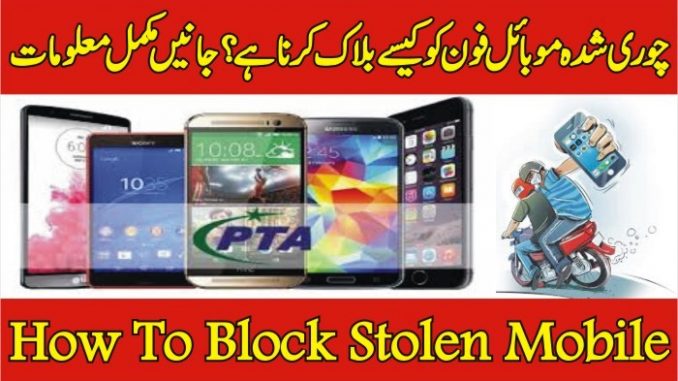 Mobile phones are getting an essential part of our lives. We use our mobile phones to check latest news updates through different social platforms. By using this device we are in touch with our beloved ones and communicate with them.
But what if you get lost your mobile phone? Surly, it will bring tension as you will not be able to stay in contact with your beloved ones. In case, you face this kind of situation, report it immediately.
Here we are going to guide our visitors how they should block the stolen mobile phones. You can block your stolen phones by following simple methods given below.
To block your mobile phone, you can lodge your complaint with PTA (Pakistan Telecom Authority) in the following ways to get it blocked:
You can call on the helpline by dialing 0800-25625

You can send E-mail to PTA address imei @pta.gov.pk

You can also visit PTA headquarters or the nearest PTA zonal office.
You can also contact Citizens Police Liaison Committee (CPLC) helplines: 1102, 021-35662222 & 021-35682222 for lodging complaints of your lost handsets.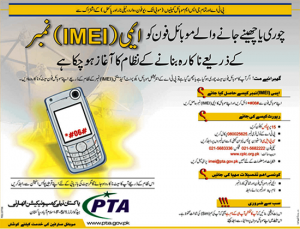 IMEI's of Stolen/Lost Mobile Phone

Mobile Number (SIM used in stolen/lost phone)

Brand/Model/Color

Date of incident

Name

Father's name/ Mother's name

CNIC number

Address

Contact number
If you want to check latest status of your complaint. You can check the status of phone after 16 working days of reporting. You can check it in the following ways:
Send 15 digits IMIEI via SMS to 8484

Visit website: https://www.dirbs.pta.gov.pk/

You can also check the device's status via android application (DVS)
IMEI # is a 15 or 17 digit number that is unique to each phone. You will need to give this number to PTA so they can block your SIM card if your mobile is lost or stolen. To find out the IMEI of your mobile phone simply dial *#06#. You can also check the IMEI number in the settings of your phone and it is also printed on the box of the mobile phone.
Simply, call the helpline to your SIM network provider and ask for the cancellation of SIM. In many cases, the telecom company even offers to deliver the duplicate SIM within a few working hours without charging any amount.
How To Get Free Internet Free Internet Tips 100% Working Trick 2019
Easiest Way To Transfer Files Between Computer And Phone In Urdu
Some Important Samsung Codes Must Know Everybody, All Samsung Secret Codes List
How can I block my stolen Android phone-How to Block Stolen Mobile Phones-How To Check IMEI #-block mobile by imei number online Pakistan-how to register your phone in Pakistan-how to unblock pta blocked phone-oppo mobile lost complaint-lost phone Pakistan-mobile chori ho jaye to kya kare Pakistan-how to check mobile imei number in Pakistan-pta mobile block number- How do I deactivate my lost phone?