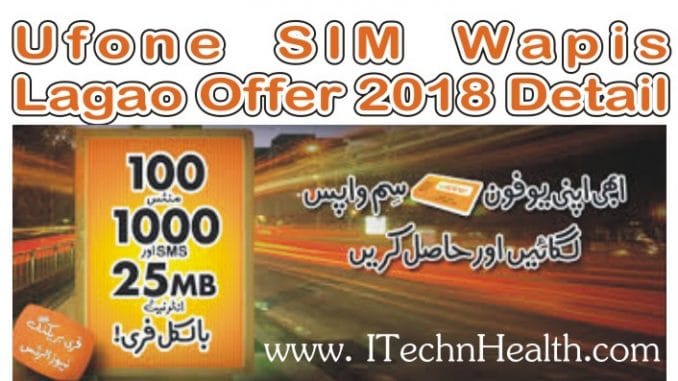 Ufone welcomes its customers back to the network with this innovative offer with which Ufone prepaid customers can enjoy unlimited free benefits after re-inserting their Ufone prepaid SIM. Ufone brings Ufone SIM Wapas Lagao Offer to its valuable prepaid customers all over in Pakistan. With Ufone SIM Wapis Lagao Offer 2018, those Ufone prepaid customers who have not used their Ufone prepaid SIM from last 45 days can avail 3000 Minutes U to U, 3000 SMS to all networks as well as 3000MB internet data. All of these benefits will be posted to the account of customer on daily basis. For example; 3000 free minutes will be posted to the user account in the form of 100 minutes/ day for exclusively 30 days period.
Insert your Ufone prepaid SIM into your phone for the subscription of Ufone SIM lagao offer. Simply dial the subscription code *5000# from your mobile.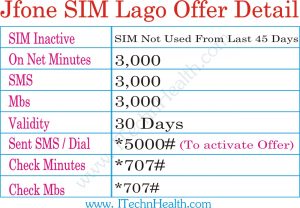 [AdSense-B]
Ufone SIM Lagao Offer 2018 can be availed only by those new, existing & MNP Ufone customers, who have not used their prepaid SIM from the last 45 days.

Only Ufone prepaid customers can avail this offer. It means that postpaid customers of Ufone network are not eligible to avail this offer.

Un-used SIM must be biometrically verified.
Validity of free benefits of this offer is 1 month i.e. 30 days.
Simply dial *707#to check your remaining free minutes, SMS and MBs.
This promotion offer is available for a limited time period.

Ufone Band Sim Wapis Lagao Offercan be availed by those Ufone prepaid users who did not use their connection for last 1.5 months.

Free benefits will be sent to the user account within 2 hours of subscription.

Free 100 MBs, minutes and SMS each will be given out per day for 30 days (fair usage policy is applied).

After the validity period, all UN-used resources will automatically expire.

10 Paisa + tax will be charge on each call.

This promo offer is available for limited time.

Extra 0.84% will charge on all services from specific regions Islamabad, Balochistan, AJK, Gilgit/Baltistan and FATA .

Check Offer' availability by sending the SMS to 5000 or just dial *5000# from Ufone SIM.

Customer will get 100 on-net minutes, 100 SMS and 100 MB 2g/3G Internet daily.

Free minutes will expire on each day.

 Just dial *707# to to find out remaining minutes

Using a sim which is not in your name or giving a sim to someone else is a crime PTA….
How To Activate Ufone Sim Wapis Lagao Offer 2018-ufone sim lagao offer details- How to Activate Ufone Sim Lagao Offer 2018- Ufone Sim Lagao Offer 2018 – How To Activate Ufone Sim Wapis Lagao Offer 2018-How To Activate Ufone Sim Wapis Lagao Offer 2018- Ufone Sim Lagao Offer 2018
Telenor Data SIM And Telenor Device Packages Dongles, Wingles & MiFi
All Telenor Internet Packages Detail, Monthly, Weekly, Daily and Hourly
Download Calendar 2019 And 1440 Hijri Islamic Calendar With Important Dates
Watch Live TV Free To Download Live NetTV App- Live Cricket Streaming- Live Net TV Download Link 100% Working
All Pakistani Network Code To Check Balance, Internet, Minutes, SMS Bundle Activation Code & Calls Packages Activation Code
Zong Full Gup Package –Zong Pora Din Free Baat Package Detail
Zong Student Packages- Zong Introduces Student Bundle in Just Rs. 3
Ufone Internet Packages Daily, Weekly, Monthly Prices and Unsubscribe Code