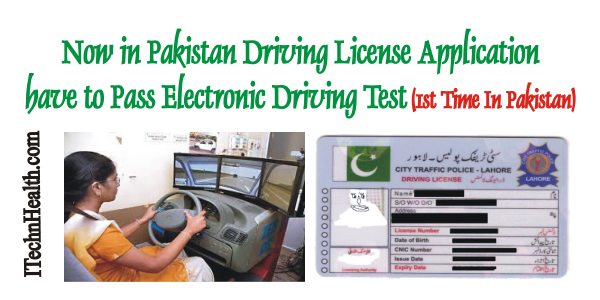 Electronic Driving Test
Any person male/female of the minimum age of 18 years can apply for a driving licence. The applicant must show his/her National Identity Card and proof of residence of the area in which a candidate is applying and must be able to read a car number plate from a distance of 20.5 meter (65′).For fresh licence in all over Pakistan the person need to apply first for a LEARNER'S PERMIT.
You need to pass three tests for Driver Licensing: a vision test, a knowledge test and a road test.
Vision Test
The vision test will measure how clearly you see. You will be asked to look into an eye machine and read a series of letters or numbers. To pass, you must be able to read the 20/40 vision line with both eyes. If you wear glasses or contact lenses to pass the vision test, you are required to wear them at all times while driving.
Computer Based Knowledge Test
A computer-based, automated touch screen testing system to administer all knowledge tests. The test is administered on a touch screen monitor and no special knowledge of computers is required. Every knowledge test has a time limit based upon the number of questions. If you exceed the time limit or miss too many questions, the test will automatically terminate; you may request an appointment to retest no sooner than ten days from the current date.
Tests are multiple choice and are specific to the license type.

All knowledge exams require a passing grade of 80%.

All knowledge exams have an optional audio feature which can be accessed by using headphones. If you wish to take advantage of this feature, please notify the licensing representative at the time of your test.

All knowledge exams are completely random, and you will not see the same exam if you have to retake the test.
Road Tests
To pass the road test, you must be able to show you can drive a motor vehicle with good control. During the road test you will be scored on:
Now You have to Pass Computerized Driving Test from October 2016

For the first time Now Driving License Applicants have to Pass Computerized Driving Test. it's official that The government of Punjab has approved first electronic driving center for Pakistan. The government of Punjab has now decided to introduce "Electronic Driving Centers" in the province where driving license tests will be taken through car simulator instead of actual cars.
The new system has already been approved and it will be operational in Lahore from October. According to the details, instead of waiting in the long queue for the driving license, the citizens will have to go through the online test. The timing for this test will be five minutes, and the person will have to answer some questions. A person's driving test will be conducted online via the simulator. To get the license, a person needs to achieve at least 75 percent marks, after which the driving license will be issued to him. You should score a minimum of 75 marks in the simulator test and answer basic questions about road safety.
Electronic Test Center In Pakistan?
Lahore traffic police are trying to advance the system by using the modern technologies as this will be firstly implement in Lahore. The electronic driving centers will be established in

Arfa Software Technology Park, Police L.O.S Traffic Police Center Thokar Niaz Baig, Police Lines, LCCHS Defence and CTO Lahore's office

. To appear for a test you must carry a valid Learner Driving permit.
Driving License Applicants have to Pass Electronic Driving Test 1st Time in Pakistan