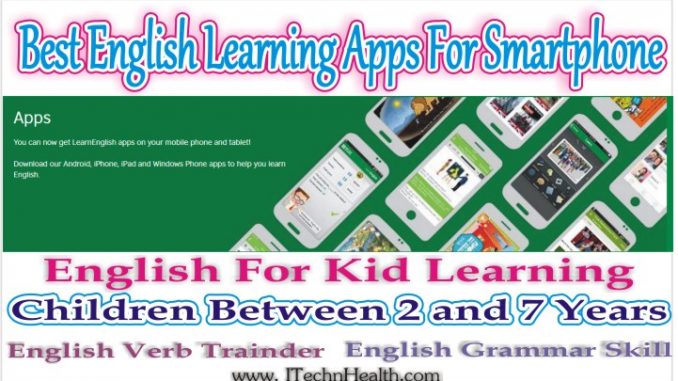 Best English Learning Apps For Smartphones and Tablets
How To Improve English Listening Skills
Smartphones and tablets are not just for playing games. They can also be great tools for English language learning. There are many apps available on internet for learners at any level. If you, or someone you know, is working on his or her English skills, these apps might be for you. In this article you can find English learning app for children, advanced and intermediate English learner. Install one of app in your Smartphone and improve your English grammar, verbs, writing and listening skills.
Learn English British Council App
The British Council has apps available on Android, iPhone or iPad, Blackberry, and Ovi covering a range of topics. In this app you can find high quality English materials to every learner, or teacher who wants them, around the world.
You can download "Learn English British Council" app from link given below:-
English Verb Trainer
With the help of this app you can Learn and practice the conjugations of the most common English verbs. Ideal for everybody who wants to learn English and as a preparation for trips to the United Kingdom (UK), the United States (USA), Canada and other English speaking countries.
You can download "English Verb Trainer" app from link given below:-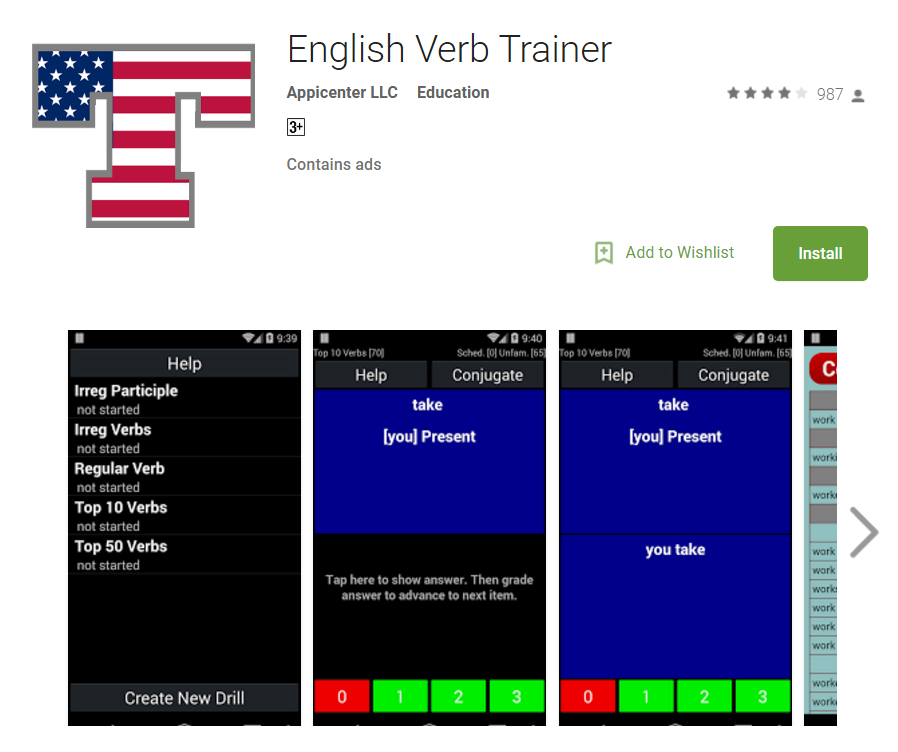 Learn English Audio and Video App
In Learn English Audio & Video, you'll find the best videos offered on the Learn English website on topics such as UK food and culture, everyday life and famous stories and poems. Extra features such as a moving audio script and pitch control have been added in the app to help with listening and understanding the pod casts. Click any part of the audio script to jump to that section or listen again. If you're finding the audio too fast, slow it down using the pitch control feature.
You can download "Learn English Audio and Video" app from link given below:-
Smartphone App for Improve Grammar Skills
Learn English Grammar app helps you to improve grammar skills.
You can download "Learn English Grammar" app from link given below:-
English For Kids Learning Free
English for Children serves children learn vocabulary of English language very easily while watching photos play. Kids just have to go through the finger pictures that are also dating the text description of the photo will be taught the pronunciation of each word. The vocabulary of English is very simple and is suitable for young children primary, and that child will help them learn the pronunciation of many words.
They can play to view images of animals, numbers, objects, vehicles, colors, etc. while learning. The application is absolutely free without any cost for tablet and mobile phone. Designed specifically for children between 2 and 7 years who are studying early childhood education.
You can download "English For Kids Learning Free" app from link given below:
Advanced-Intermediate English Learning App
Busuu
Busuu is a popular app appropriate for learners who are just starting to advanced-intermediate English speakers. Busuu has phrases to help with over 150 topics and it teaches using situations from daily life. With busuu. Learn Spanish, English, German, French, Italian, Portuguese, Turkish, Arabic, Polish, Russian, Chinese, and Japanese with the help of over 60 million international native speakers who are learning, practicing and teaching on busuu. Download and try for free!
EFFECTIVE LESSONS TO PRACTICE YOUR LANGUAGE SKILLS


✔ Speaking lessons and basic exercises
✔ Pronunciation examples and exercises
✔ Grammar tips and exercises
✔ Listening/Audio samples
✔ Writing lessons and exercises
✔ Dialogue lessons and exercises
✔ Memory practices
✔ Vocabulary lessons and exercises
Learn English British Council App- Learn English Audio and Video App- Smartphone App for Improve Grammar Skills- English For Kids Learning Free- English Verb Trainer- Advanced-Intermediate English Learning App
BEST FREE APPS AND GAMES EVERY SMARTPHONE OWNER SHOULD DOWNLOAD