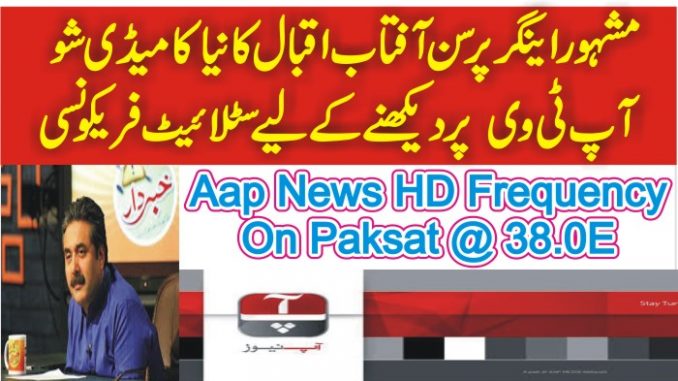 Aap News is an Upcoming Pakistani Urdu News Channel. A part of Aap Media Network. AAP Media Network bringing two News Channel in Pakistan. AAP NEWS is a Urdu based news channel and INDUS NEWS an English Language news channel news channel for local and international audience. AAP Media Network a conglomerate of Urdu and English News channel has started hiring for INDUS NEWS.
Aap News is a new TV channel and started its test transmissions on Paksat. The famous TV host Aftab Iqbal is CEO of the channel. He is also hosting his new show Khabarzaar on Aap news. The show will be televised from Wednesday to Sunday.  Aftab Iqbal is planning five other channels under the brand name Indus Media so stay connected with us for more details.
The AAP News HD is available on Paksat IR @ 38 degrees east. The frequency of the channel is 4019, Polarity H & symbol rate is 12222.
Satellite: Paksat
Degrees: 38E
Frequency: 4019
Symbol Rate: 12222
Polarity: H
System: DVB-S2, 8PSK, MPEG-4, HD
Aap News- Aap News HD Frequency- Aap News HD Frequency on Paksat- Aap News HD Frequency on Paksat @ 38.0°E- Aap Media Network- Pakistani Urdu News Channel Frequency- INDUS NEWS- TV host Aftab Iqbal- Khabarzaar on Aap news
New Update List of Belgium IPTV Channels M3U Links June 2018