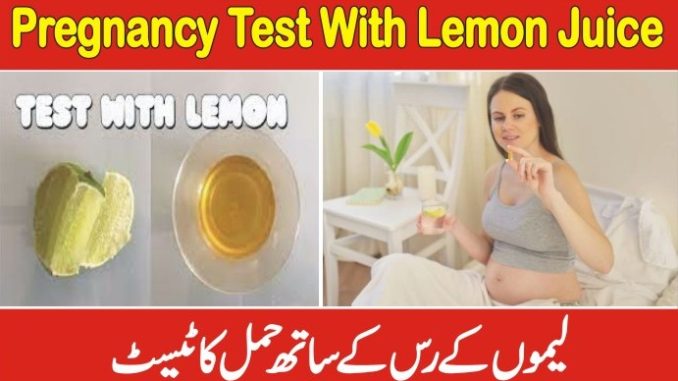 There are many traditional and home remedies that people use to detect pregnancy, including the use of lemon juice. However, there is no scientific evidence to support the use of lemon juice as a reliable or accurate pregnancy test.
Many people use lemons for home pregnancy tests. This pregnancy test is easy and affordable. That's why many people consider taking a lemon pregnancy test. But is the result of this test correct? Today in this article we will talk about how to do a lemon pregnancy test, how to see the result after the test and its results.
First thing in the morning, put a few drops of urine in a glass. Now add few drops of lemon in this glass. Wait for some time for the chemical reaction.
According to the news circulating on the internet or according to people's beliefs, if adding lemon juice to the urine turns the color of the urine green, then understand that you are pregnant. At the same time, if there is no change in the color of urine, understand that you are not pregnant.
It is not correct for a women to take a pregnancy test at home. Because its validity is not recognized. So far there has been no research that has proven that lemon pregnancy test results are accurate.
The traditional method of using lemon juice as a pregnancy test involves mixing lemon juice with urine and observing any changes in color or texture. According to the theory behind this method, if the lemon juice changes color or texture, it indicates the presence of pregnancy hormones.
However, there are several reasons why this method is not reliable or accurate. Firstly, lemon juice is acidic, which can affect the pH level of the urine and change its color or texture, regardless of whether or not a person is pregnant. Additionally, the amount of pregnancy hormones in urine can vary from person to person, and from day to day, making it difficult to determine a definitive result.
It's important to note that relying on home remedies, such as lemon juice, to detect pregnancy can lead to false positives or false negatives. False positives occur when a person is not pregnant but the test indicates otherwise, while false negatives occur when a person is pregnant but the test fails to detect it.
If you suspect that you may be pregnant, the most reliable way to confirm pregnancy is through a medical test, such as a blood test or a urine test. These tests detect the presence of the hormone human chorionic gonadotropin (hCG), which is produced by the placenta after a fertilized egg implants in the uterus.
In conclusion, while the use of lemon juice as a pregnancy test may seem like a convenient and cost-effective option, it's important to remember that it is not reliable or accurate. It's always best to speak with a healthcare professional to receive proper medical care and guidance if you suspect you may be pregnant. So, if you notice the symptoms of pregnancy, consult a doctor immediately. Apart from this you can also take the help of pregnancy kits available in the market. However, it is important to consult a doctor after a home pregnancy test. So that other important pregnancy tests can be done.



How To Check Pregnancy Test Results-Pregnancy test with Lemon Juice-lemon pregnancy test-how to make a pregnancy test positive without urine-what liquid turns a pregnancy test positive-how to fake a pregnancy test positive-does dipping a pregnancy test in coke make it positive-mirror pregnancy test-how to make a pregnancy test positive with water salt pregnancy test
How To Conceive A Baby Boy 100 Percent, Aulad e Narina Hone ka Wazifa Dua
Khubsurat Beta Hone Ka Wazifa, Wazifa For Baby Boy During Pregnancy
How Can I Protect My Baby In Winter, Tips To Keep Your Baby Safe In Winter Season
Which Oil Is Best For Baby Skin Whitening, Easy Tips for Baby's Skin Healthy & Whitening
Khubsurat Beta Hone Ka Wazifa, Wazifa For Baby Boy During Pregnancy
How To Get Rid Of Heat Rash Quickly, Baby Rash, Diaper Rash On Baby
Home Remedy to Increase Baby Weight, Bachon Ko Mota Karne Ka Nuskha
Wazifa For Crying Baby Rone Wale Bache Ko Chup Karane Ki Dua