Insani jism main 5 se 6 letter khoon mojood hota hai aur insani dil 1 second main 5 letter khoon ko saaf kar sakta hai. Insani jism mein sharianon aur wareedon khoon le jane wali nalion hoti hain jo jism k har hissay tak saaf khoon pohanchanay ka zareya hai. Jab in nalion par dabao barhta hai to dil ki taraf khoon ka bahao taiz ho jata hai, jitna taiz yeh bahao ho ga itna hi blood pressure ziyada hoga. Kisi b insaan ka blood pressure achanak high ho jana uski zindagi ke liye khatarnaak saabit ho sakta hai kyunkay high blood pressure ke marz se insaan ki dimagh ki rigg phatt sakti hai, faalij ho sakta hai ya uski mout bhi hosakti hai.
High blood pressure ki wajohat mein udhair Umri , ghair miaari tarz zindagi, cigrette o sharaab noshi, khanay mein namak ka ziyada istemaal, motapa, jismani harkaat o saknaat ki kami, diabities, gurdon ya thyroids masail, tension ya zehni tanao aur vitamin d ki kami waghera ho sakti hain.
Baaz auqaat waqti tor par maslan gussa karne, jazbati honay, sakht mehnat o mushaqqat waghera karne par bhi blood pressure barh sakta hai, jisay is marz mein shumaar nahi karna chahiye.
Agar aap ko ilm ho ke aap ko high blood pressure ki shikayat hai tu aap medicine ke ilawa apni khoraak, life style aur roz maraah ki routine main tabdeeli laa kar bhi high blood pressure ko control kar satke hain.
Agar aap high blood pressure jaisi se bachna chahty hain to ghair zaroori tension ya stris lainay se ijtinab karen.

Agar aap motapay ka shikaar hain to wazan kam karne ki koshish karen.

Taley hue aur chiknahat walay khanay kam khayen. Gaajar, lemoo, saib, adrak, lahsun aur doodh dahi ka istemaal zida karen.

Khane main Namak ka istemal kam karen.

Rozana kam az kam 30 minute tak werzish ye walk zaroor karen.

High Blood Pressure k mariz chhota, bara gosht, timatar, achaar, palaak aur taiz mirch masalha waghera se mukammal parhaiz karen.
High blood pressure ko control karne ke liye Green Herbal Tea be had faida mand hai. Herbal tea banane ke liye aap ko mandarja zail ajzaa ki zaroorat ho gi.
Pani – 8 glass

Sabz chaye – 6 khanay ke chamach

Jaman ka sirka – 1 khanay ka chamach

Sabz alaichi – 4 Adad

Kalonji – 1/2 chamach

Daar cheeni – Hasb zaroorat
Taqreeban 8 glass pani main 6 chammach sabz chaye, 1 khanay ka chamach jaman ka sirka, aadha chamach kalonji, 4 Adad sabz alaichi aur daar cheeni daal kar pakay ke liye rakh den. Jab pani taqreeban 6 glass baqi reh gaya tu thanda kar ke fridge main rakh lain.
Din main kam az kam 3 baar is chaye main lemon juice daal kar piyen. kuch din main high blood pressure biqul normal ho jaye ga.
High blood pressure ko control karne k liye Aalo Bukhary aur podeenay ki tea bhi bout mufeed hai, yeh nuskha un mareezon ko bhi bohat faida mand hai jin ke khoon mein cholesterol ya Triglyceride bara hwa ho.
Khushk aalo bukhara – 2 Adad

Khushk podina – 1 chutki

Pani – 2 cup
Aik degchi main 2 cup pani dal kar boil kar lain, phir is main Aalo Bukhara aur Podina dal kar itna pakayen ke pani 1 cup baqi reh jaye tu thanda kar lain.
Din main 2 martaba peenay se high blood pressure control ho jata hai aur is k sath sath khoon main cholesterol aur Triglyceride ki range b normal ho jati ha.
Adrak high blood pressure ke liye bohat mufeed hai, agar is ki chaye bana kar istemaal ki jaye to ye high blood pressure k patients k lehe ziyada faida mand hoti hai.
Desi adrak powder – 10 gram

Sabz elaichi – 6 se 8 Adad

Saunf – 1 chamach

Pudina ke pattay – 15 se 20 Adad
Adrak, Sabz Elaichi, Saunf aur Sabz pudina ko 8 glass pani main daal kar halki aanch par itna ubalin ke woh 6 glass reh jaye.
Din main 3 baar khanay ke baad 1 cup taqreeban 2 mehany tak istemaal Karen se blood pressure biqul tek ho jata ha.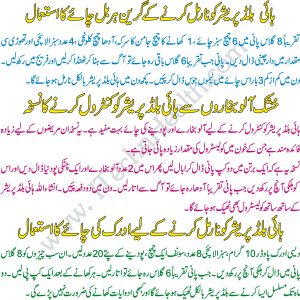 انسانی جسم میں دماغ سے لے کر پاوں تک خون کی چھوٹی بڑی شریانوں کا ایک جال سا بچھا ہوتا ہے۔ جن میں ہر وقت ایک خاص رفتار سے خون گردش کرتا رہتا ہےاگر خون کا بہاو نارمل رہے تو انسان صحت مند رہتا ہے لیکن اگر خون کی روانی میں تیزی یا سستی آ جائے تو انسانی جسم میں بلڈ پریشر نارمل نہیں رہتا۔
بلڈ پریشر کی دو اقسام ہیں۔ ہائی بلڈ پریشر اور لو بلڈ پریشرجب بلڈ پریشر 90/130کی رینچ سے زیادہ ہو تو اس کو ہائی بلڈ پریشر کہتے ہیں اور جب بلڈ پریشر 90/130 کی رینج سے کم ہو تو اسے لو بلڈ پریشر کہتے ہیں۔ ہائی بلڈ پریشر اور لو بلڈ پریشر عام طور پر استعمال کی جانے والی اصلاحات ہیں حقیقت میں ڈاکٹر ز ان کے کے مخوض اصطلات استعمال کرتے ہیں۔
اگر بلڈ پریشر زیادہ ہائی ہو جائے تو یہ ایک تکلیف دہ اور جان لیوا بیماری ثابت ہو سکتی ہے اس لیے بلڈ پریشر کو کنٹرول کرنا بہت ہی ضروری ہے۔ آج کل کی ناقص خوراک اور آسان طرز زندگی کی وجہ سے بچے اور جوان بھی اس مرض میں مبتلا نظر آتے ہیں۔ایک ریسرچ کے مطابق 30سے 40 سال کی عمر میں ہونے والی اموات کی وجوہات میں ہائی بلڈ پریشر سرفہرست ہے۔ ہائی بلڈ پریشر میں دماغ کی شریانیں پھٹنے اور گردے فیل ہونے کا خطرہ بڑھ جاتا ہے۔ دنیا میں ہائی بلڈ پریشر کے مریضوں میں دن بدن اضافہ ہوتا جارہا ہے ۔
نمک کا زیادہ استعمال، مرغن غذائیں، زیادہ کھانے اور بے وقت کھانے کی عادت، موٹاپا، جسمانی ورزش نہ کرنا، چہل قدمی نہ کرنا، ذہنی دباو، شوگر ، خون میں کولیسٹرول کو بڑھ جاناہائی بلڈ پریشر کے اسباب ہو سکتے ہیں۔ہائی بلڈ پریشر میں عام طور پر مریض کو چکر آنا شروع ہو جاتے ہیں، کانوں کے پیچھے سنساہٹ محسوس ہوتی ہے۔
نمک کا استعمال کم کریں، پتوں والی سبزیوں کا استعمال زیادہ کریں۔گائے کا گوشت، بکری کا گوشت ، کلیچی، تلی ہوئی اشیا سے پرہیز کریں۔ گھی ، انڈے اور مکھن کا استعمال کم کریں، کھانا پکانے کے لیے کارن آئل ، سورج مکھی ، سوبابین یا زیتون کے تیل کا استعمال کریں۔
اگر آپ ہائی بلڈ پریشر سے بچنا چاہتے ہیں تو کم کھائیں، اپنا وزن نہ بڑھنے دیں ، روزانہ کم ازکم آدھا گھنٹہ پیدل چلیں اور ٹینشن لینے سے بچیں۔
ہائی بلڈ پریشر کے مرض میں چاول کی غذا بہترین ہے اس کے علاوہ بلڈ پریشر کے مریضوں کے لیے انجیر بھی فائدہ مند ہے۔ ہائی بلڈ پشر کے مریضوں کو چاہیے کہ وہ تازہ کھانا کھائیں کیونکہ فریج میں رکھے کھانے میں سوڈیم یعنی نمک کی مقدار بڑھ جاتی ہے جو ہائی بلڈ پریشر کے مریضوں کے لیے نقصان دہ ہے۔
غصے سے ہمیشہ بچنا چاہیے، اپنا بلڈ پریشر ریگولر چیک کرواتے رہنا چاہیے۔کوشش کریں کہ اپنی طرز زندگی میں تبدیلی لا کر بلڈ پریشر کو کنٹرول رکھیں اور گھریلو نسخوں کی مدد سے بلڈ پریشر کو کنٹرول کریں اگر ایک بار بلڈ پریشر کی دوا کا استعمال شروع کر دیا جائے تو اسے عمر بھر کے لیے معمولات کا حصہ بنانا پڑتا ہے۔
High Blood Pressure Ka Desi Ilaj- High Blood Pressure Ko Control Karney K Tariqe- Tips To Control High Blood Pressure- High Blood Pressure Control Karney Ke Liye Totkay- Control High Blood Pressure With Adrak Tea- Green Herbal Tea Remedy To Control High Blood Pressure-
Low Blood Pressure Ka Desi Ilaj- Low Blood Pressure Ko Control Karney K Tariqe- Tips To Control Low Blood Pressure- Low Blood Pressure Control Karney Ke Liye Totkay
What is Cholesterol Level in Blood In Urdu. LDL Cholesterol in Urdu – Tips for Cholesterol Level In Urdu
Bimariyan Aur Gharelo Totkay In Urdu-Best Gharelo Tips Aur Totkay
Best Herbal Remedies For Hair Loss, Control Blood Pressure, Sore Throat, Upset Stomach, Acidity, Control Cholesterol Level & Arthritis
Natural Beauty Tips for Face Whitening in Urdu & English- Beauty Tips Urdu Mein
Ghar Milne Ka Wazifa In Urdu- Zati Ghar kay Ka Wazifa-Zati Makan k liye Wazifa