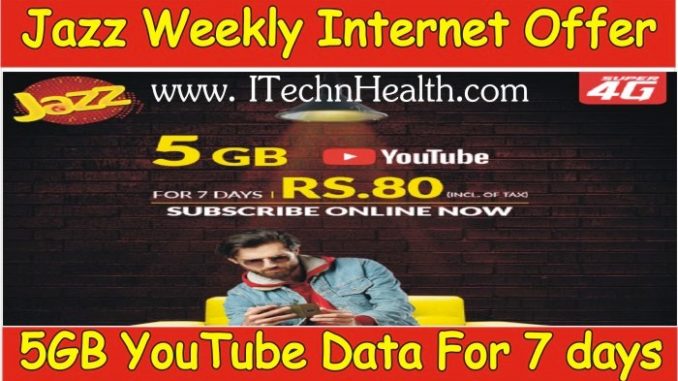 Jazz is one of the leading internet service providers in Pakistan that provides a range of prepaid and postpaid voice and data telecommunication services to its customers.
Now Jazz brings amazing offer for its customers to fulfill their video streaming needs. Jazz 5G YouTube offer enables its customers to get 5GB YouTube Data for a whole week in just Rs. 80.
So if you are found of watching videos on YouTube then this offer is for you avail this offer and  enjoy the YouTube streaming for whole week without any tension of financial burden.
It is very easy to subscribe this offer. Upon subscription of the offer  jazz customer will get 5 GBs data usable only     for YouTube. This offer will not auto-subscribe and need to be subscribed again upon expiry. Detail is given below.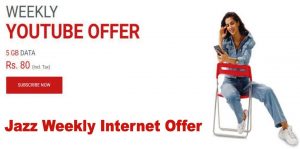 Offer Price                           =          Rs. 80 (Including Tax.)
Recharge Required            =          Rs. 90
Subscription code             =          *570#
Status Code                          =          *570*2#
Data                                       =          5 GB YouTube
Validity                                  =          7 Days
Upon subscription of the offer, customer will get 5 GBs data usable only for YouTube

Bundle will not auto-subscribe and need to be subscribed again upon expiry

Overage of Rs 2.0/MB applies after incentive has been exhausted

Actual internet speed will depend on multiple factors like sim, device, web pages accessed, time of day, number of simultaneous users, distance from 2G/3G/4G site etc.

If you are not subscribed to any bundle, base rate will be charged i.e. Rs. 5/MB. Charging pulse will be 512 KB
Jazz Weekly Internet Packages 5GB-Jazz Weekly Internet Packages -jazz youtube package 2020-jazz internet packages 4g-jazz youtube weekly package-jazz weekly packages-jazz internet packages 2020-jazz internet packages weekly-jazz internet packages 2020-jazz weekly package-jazz internet packages weekly-jazz packages-jazz warid internet packages
Jazz Weekly Internet Social Package for Facebook, Whatsapp & IMO 5GB
Jazz Whatsapp Packages Activation Code Daily Weekly And Monthly Packages Sub & Unsub Code
All Social Bundles Packages Detail (Jazz, Telenor, Ufone, Jazz)
Ufone Facebook Package, Ufone Unlimited Facebook Offer Detail
All Telenor Internet Packages Daily, Weekly Monthly Activation Code