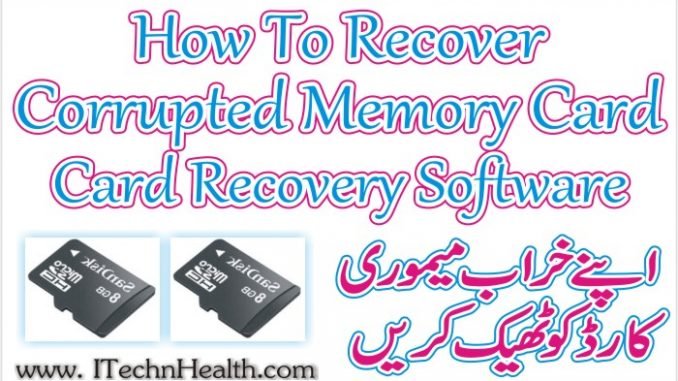 How To Recover Corrupted Memory Card
If a memory card is corrupted, its bit hard to recover it back. The reason behind this is that most of us don't know how to recover a corrupted memory card. If you are facing this problem then before buying a new memory card I will tell you a useful tip to fix a corrupted memory card. You can fix your memory card with simple tools available in the market today.
Check your memory card with the help of a memory card reader. If your memory card is detected, then follow these steps to recover it back.
Steps of Fix a Corrupted Memory Card
Connect your memory card to your PC and check the drive which is showing the location of your card i.e (F:) (H:).

Right click on your memory card drive and go to properties.

Click on Format button. Don't check the quick format option, just leave it blank.

Check your memory card if its fixed. If not then download this application and follow the instructions. You would not be surprised to see your memory card back in action.
Supported Card and Storage
SD Card(Secure Digital card), MicroSD (TransFlash), SDHC, miniSD card, MMC card MultiMedia card, CF card , Compact Flash card, CF Type I, Type II, MicroDrive, Memory Stick, Memory Stick Pro, Duo, Pro-HG, XC, Micro(M2), SmartMedia, flash card recovery, xD Picture card recovery

Fix A Corrupted Memory Card With Recoverypro Application
Download Software from below link.
Step By Step Method To Recover A Corrupted Memory Card
Step 1

Step 2

 Improper Operation
Factory reset

Powered off device (camera etc.) during write process

Card mistakenly used in different cameras

SD Card removal while device is powered on

Virus infection

Unexpected power off

Lost photos during transferring photos from storage devices to PC/laptop

File system corruption: camera storage device, hard drive or

USB flash drive
Supported Devices by Manufacturer
Nikon, Canon, Kodak, FujiFilm, Casio, Olympus, Sony, SamSung, Panasonic, Fuji, Konica-Minolta, HP, Agfa, NEC, Imation, Sanyo, Epson, IBM, Goldstar, LG, SHARP, Lexar, Mitsubishi, Kyocera, JVC, Leica, Phillips, Toshiba, SanDisk, Chinon, Ricoh, Hitachi, Pentax, Kinon, Verbatim, Vivitar, Yashica, Argus, Lumix,Polaroid, Sigma and almost all digital camera brands on the market
Tips For Cleaning The Computer,Laptop,LCD, LED, Optical Mouse and Keyboards