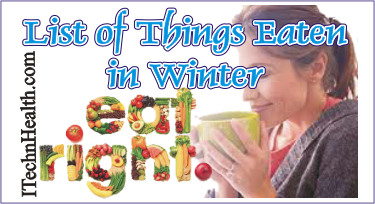 When we think about winter there are a few awesome things which pop into your mind. Nice cozy evenings snuggled in a blanket, your laptop in front of you whilst binge watching one of your favorite TV shows. But what's a warm relaxing evening without pampering yourself with good food?. What is winter without them?  Here is a list of Healthy Winter Food- List of things eaten during winter
You know you can never go wrong with soup. There is so much to choose from. Chicken soup, vegetable soup, Chinese varieties, cream soups and tomato basil soups. It can be eaten as an appetizer before the main course, or even better, as the main course itself! Top a mushroom cream with some nice buttery garlic bread or bread sticks and voila, you have a main course.
Carrots is very useful for healthy eyes. Carrots are very rich in vitamin A. Vitamin A is very necessary for human body, eyes, skin, and mucus membranes. Carrots are also loaded with vitamin C. Carrots can reduce risk of cancer and also prevent cardiovascular disease. Carrots can be eaten alone and also combines the orange v juice and maple syrup.
Why not refuel your vitamin C this winter? I'm sure you have packaged orange juice all year round, but the organic stuff? Just one season a year. So let's get those oranges stocked up!
Pomegranates are among the healthiest fruits on earth. They contain a range of beneficial plant compounds, unrivaled by other foods. Many studies have shown that they have incredible benefits for your body, and may lower the risk of all sorts of diseases. Pomegranates have an impressive nutrient profile:One cup of arils (174 grams) contains Fiber: 7 grams ,  Protein: 3 grams, Vitamin C: 30%, Vitamin K: 36%, Folate: 16%, Potassium: 12%.
Guava is a tropical fruit that tastes similar to pears and strawberries. It contains five times more vitamin C than an orange and is rich in fiber – especially if you eat the seeds. Guava also contain lutein, potassium, soluble dietary fiber, calcium and iron. The best part? It only has 60 calories in one serving, making it the perfect slimming snack.
Honey is the most natural sweetener you can find. But be careful not to overdo it – at equal volume, it contains more calories than sugar. It's a good source of antioxidants and its antimicrobial properties make it an ally during the winter.
Let's not ignore sweet potato from this list. Commonly found being sold by cart vendors in Pakistan, this delicious root vegetable can be devoured in a variety of ways.
Last but not the least, chocolate! The ultimate dessert. Eat it in any form; cakes, hot cocoa or just a bar of your favorite brand.
Galay Ki Kharash Ka Ilaj-Galay Ka Dard K Ilaj- Sore Throat Remedies