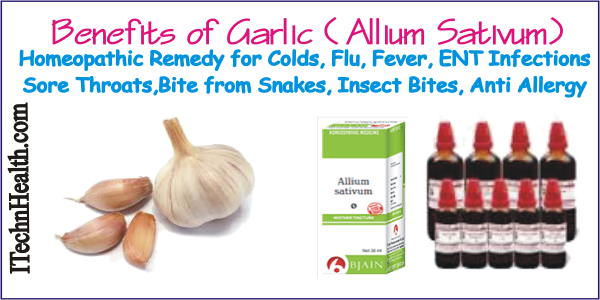 Garlic Homeopathy Medicine (Allium Sativum)
Homeopathy can treat many such diseases that are otherwise considered incurable by modern medical system. Homeopathy is more effective than other medical systems.
In this post I will share a homeopathy medicine that consist of Garlic (Allium Sativum) benefits, Uses, Medicinal Properties, Dosage and more information about Garlic.
Garlic (Allium Sativum) originated in China but has been cultivated throughout the world. It was one of the main protective plants for the Egyptians, The Gauls, and also the Romans and Greeks used it for treatment of numerous diseases. In the middle ages Garlic was given to Roman Soldiers to give them strength.
Garlic (Allium Sativum) is a very powerful medicinal plant that is often underestimated. It has been used for treatment of numerous diseases and also used as a remedies. Garlic acts directly on intestinal mucous membrane increasing peristalsis. The daily consumption of Garlic is excellent for general healt. It is recommended to take 2 to 4 cloves per day. Garlic is not always  easily digestible so reduce dosage in case of diarrhea or other side effects.
Garlic Composition:
Garlic is a functional food and very rich in calcium, copper, bromine, magnesium, phosphor, potassium, selenium, sulphur, zinc, iron, vitamins,
Benefits of Garlic
Patient who eat a lot of meat and then drink can feel pain in hip, pain in psoas then can use this medicine.
Use this medicine in high fever, because it help to temperature becomes normal.
It can also be used for weight gained and for mind health because after using this medicine you can sleep regular. Other uses of this medicine is given below:
Colds, Flu, Fever, ENT Infections, Sore Throat, Cholera, rabies, bites from rabid animals and snakes, insect bites, anti allergy.
Garlic Medicinal Properties:
Natural Antibiotic and Anti Viral.
Anti disease, help to prevent tum, antioxidant.
Anti Cancer, help to prevent cancer of the stomach and lung.
Useful for Heart Problem i.e Blood Pressure, Improve Blood Circulation, balances cardiac functions, prevents the formation of blood clots, Treatment of blood diabetes.
Protect from Pollution and Tobacco smoke.
Strongly reduces Cholesterol.
Reduces blood Lipid Level.
Blood Sugar, reduces blood sugar level
Dr. Willmar Schwabe

ALLIUM SATIVUM MT
Mother Tincture, single remedies:
30 ml
Dose:
Third to sixth potency. In tuberculosis, dose , for to six grammes daily in moderate state.
Garlic Homeopathy Medicine (Allium Sativum)