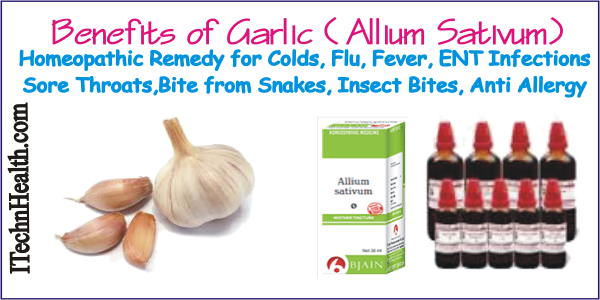 Garlic Homeopathy Medicine (Allium Sativum)
Homeopathy can treat many such diseases that are otherwise considered incurable by modern medical system. Homeopathy is more effective than other medical systems.
In this post I will share a homeopathy medicine that consist of Garlic (Allium Sativum) benefits, Uses, Medicinal Properties, Dosage and more information about Garlic.
Garlic (Allium Sativum) originated in China but has been cultivated throughout the world. It was one of the main protective plants for the Egyptians, The Gauls, and also the Romans and Greeks used it for treatment of numerous diseases. In the middle ages Garlic was given to Roman Soldiers to give them strength.
Garlic (Allium Sativum) is a very powerful medicinal plant that is often underestimated. It has been used for treatment of numerous diseases and also used as a remedies. Garlic acts directly on intestinal mucous membrane increasing peristalsis. The daily consumption of Garlic is excellent for general healt. It is recommended to take 2 to 4 cloves per day. Garlic is not always  easily digestible so reduce dosage in case of diarrhea or other side effects.
Garlic Composition:
Garlic is a functional food and very rich in calcium, copper, bromine, magnesium, phosphor, potassium, selenium, sulphur, zinc, iron, vitamins,
Garlic Homeopathy Medicine (Allium Sativum)