You are beautiful if your eyes are attractive, it is a responsibility of everyone to keep eyes beautiful, safe and healthy. Due to our carelessness sometimes our eyes get into trouble, eyes start swelling when they are affected due to dust and dirty. The main problem with our eyes are decrease vision, swilling, dark circle around eyes, ankh surkh(red) hona, anhk se ansoon behna, roshni se taklif hona, ankhon se ganda mawad niklana, ankhoon main pain hona aur Ashobe-e-Chasham. Here in my this article I am sharing some very useful Duaan,  Wazifa and Ankhoon K Elij K Lehe Garalo Totke for treatment of different eye diseases.
Ankh jism ka aam jazu hai. Iss ki hifazat bohat zaroori hai. Agar ankhain zaya ho jaye to duniya admi kay liye andhair nagari hai. Ankhoon ki bemariyan k lehe Dhaan aur Waziaf nechay bayaan ki jaati hain ta k aap Aankon ki Bemarion se nijat hasal kar saken.
Aankho ki har kisam ki bemari k lie "Para # 30 ki Surah Takveer Sorah # 81,Surah Infetaar Sorah # 82 perne se shafa milte ha aur Allah k fazal se aankeen tek ho jaten hain.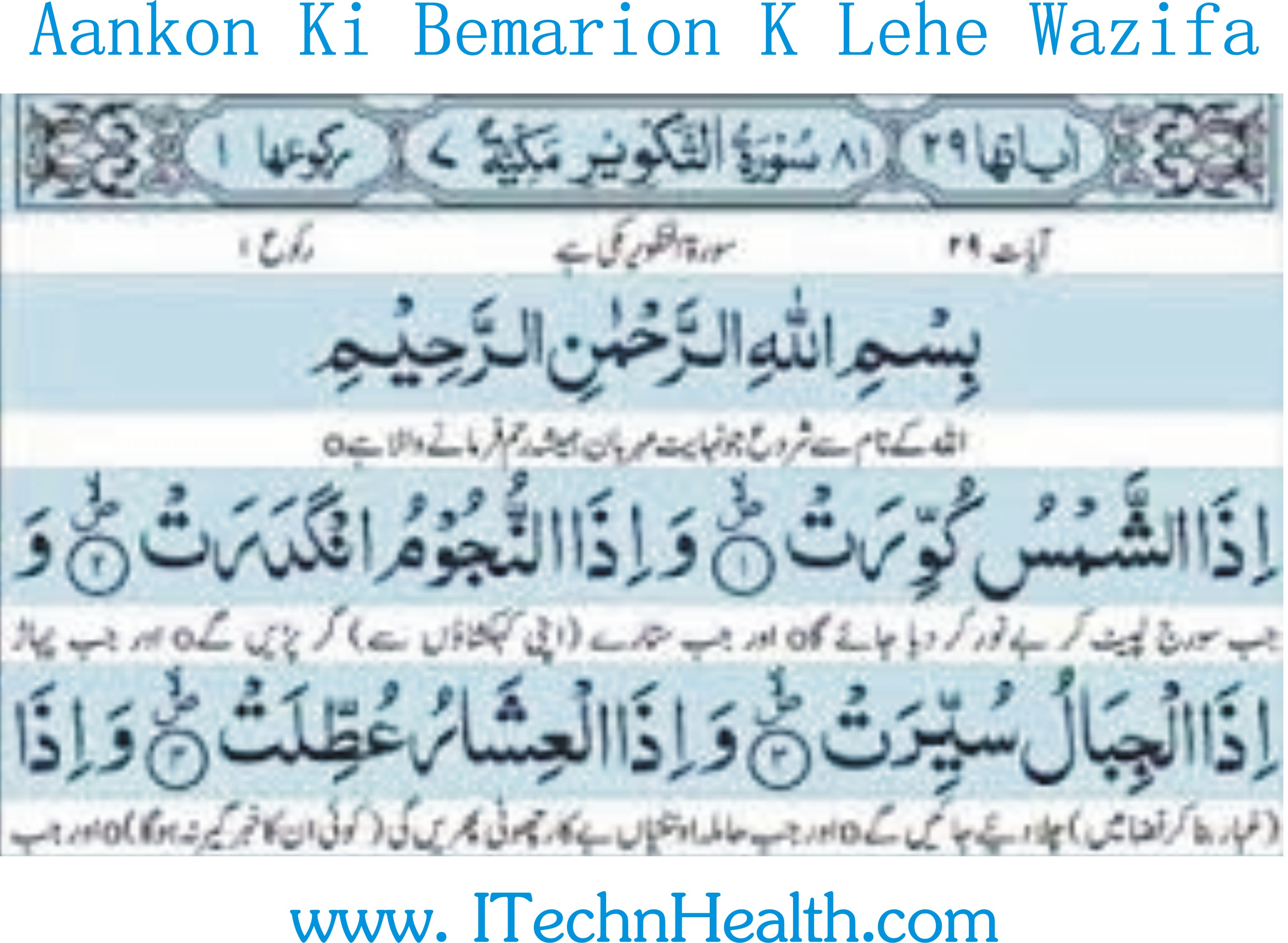 Nazar Teez karne ka wazifa Surah takveer ko perh kar aakho per phonka jaay to basaarat ziyaada ho jaati hai.
Agar aap ki ankeen surkh yani red hojati hain, ankoon se bout zeda pani behne lagta ha tu ye totka azmaan in se ye problem katam ho jaye ga.
Ankhon per khalis dodh yani pure milk ki mali kisi kapray per rakh kar bandh lain aur 3-4 ghantay k lehe apni ankhain band rehne dain. Ye Totka ankoon k surk hone ka batreen elaj ha.

Ankh mitti kay zaraat, rait aur phatar se zukhmi hojati hai. Aisay zaraat ankhoon mein pardnay se kharish aur jalnay shuru hojati hai aur ankh ko ragarnay se zukhm par jatay hain. Agar in zaraat ko saaf na kiya jaye to eye sight mutasir hoti hai. Asi sorat main ankh ko ragarna nahi chahaye. Bhetar taeeqa yeh hai kay ankh ko thanthde aur saaf pani se foran dhoen aur eye specialist se consult karen. Agar ankhoon main mitti aur chonay kay zaraat par jayain to in ko itihat se kissi naram kapray se nikalay pir ankh ko saaf pani se dhoen.

Ankon main khalis Shehed yani honey dalian aur 10-15 minuts ke bad ankhain dho lain. Is se ankoon ka dard, surki katam ho jaye ge aur binayi b bar jaye ge.

Anaar ke dano k ras ko kisi tanbay yani copper k partan main dal kar agg per pakain. Jab garha hojae tu is ko zinc ki dabbi main rakh lain. Rozana eik silayi laganay se ankhon ki kharish, Palkon ke baal girna, ankheen surkh hona ye sab takleef khatam ho jahain ge.

Agar ankhoon mein kisi infection ki wajah se peep pard jaye tu Ankhoon ki garm pani se tikor karain. Achacha sa Eye Drops istemaal karay. Zukhm par Eye Ointment lagaye. Ankhoon ko teez dhoop se bachaye. Foran hospital mein ilaaj karwaye.

Agar aap ki anken bout zeda zardi mahal nazar aa rahi hain tu Kalonji lay lain aur eik pao pani main josh dain aur phir is say ankhai dho lain yeh amal kuch roz jari raken, kuch dino k bad ankoon se zardi nazar ana katam ho gae ge aur ankeen belkool safaid nazar ana shor ho jain ge. Rozana aik qatra kalonji oil ankho main dalain is se b Ankhoon ki zardi katam ho jati hain, lekain khyall karain k kalonji ka oil belkul khals ho milawat shuda na ho is se ankhon ko nuqsan ho sakta ha.
Ashobe e chasham ki waja se Eye ball aur papottay kay andr ki jhilli surkh hojati hai aur ankhon se pani tabakta ahi. Kisi bemari maslan khasra se bhi ashob chasham hota hai is k elawa teez dhop ka asar, nazla zukham hona b Ashobe-e-Chasham ki waja hain. Is halat main ankoon main sozish hojati hai. Ankhoon se pani bheta ahi aur gheri ratubat ban jati hai. Dhoop bardasht nahi karsakti. Raat ko sotay waqt lasdar aur ratubat ankhoon mein chamt jati hai. Aur subha uthay waqt ankhain khulti nahi bar bar hatoon se milnay se zukhm hojatay hain. Ankhoon mein dard hota ahi. Ashob chasham bout khatr naak hota ha yeh eye sight ko bayhad mutaser karti hain.
Yeh bemari aik shaks se dosray ko lag jati hai. Iss liyeh wabahi khelati hai iss qism ki waba mareez kay kaparoon, takiya ya romaal kay tandosraat admi kay chonay se issay lag lag jati hai. Mareez ki ankh ka mowad khush honay se bemari kay jarasim ho kay zariye dosray admi'oon ki ankhain par asar andaz hotay hain.
Agar Ashobe-e-Chasham ka sahi ilaaj na kiya jae to ankhoon ki binahai mutaser hogae. Thanday pani kay cheetay maray. Dhoop se bachao  ke liye chashma istemaal karay. Ziadha tabish mehsoos ho to sar pani se dhoye. Agar ankh mein shadeed dard ho to koe Antibiotic lain. Raat ko sonay se phelay Eye Ointment lagaye takay ankhain chupatnay nap aye, honey kay teen char qitray bhi dalay saktay hain. Medicine daltay waqt ko apnay hath achachi trah  saaf karnay chaye. Mareez ka kapra ya rumaal tandaroosat admi khud istemaal na karya kiun kay iss se dosray admi ko Infection hosakti hai.
Ankhoon ko thanday pani kay cheetay maray. Gardo gubar se bachae. Sabz rung ka chashma istemaal karain ta k dhoop se bachao hoskay. Antibiotic dawaon ka istamal kerna chahiye jo doctor ke mashware se ho.Eye Drops din mein 4-5 bar ankhoon mein dalay. Tursh aur masla dar ziadha mirch walay khanay na kahaye. Ankhon ko bila zaroorat hath na lagaya jae. Patient ko aise ghiza jis men Vitamin A zada se zada mojood ho jese gajar, palak, dood aur dahi, aur machli ka gosht den.