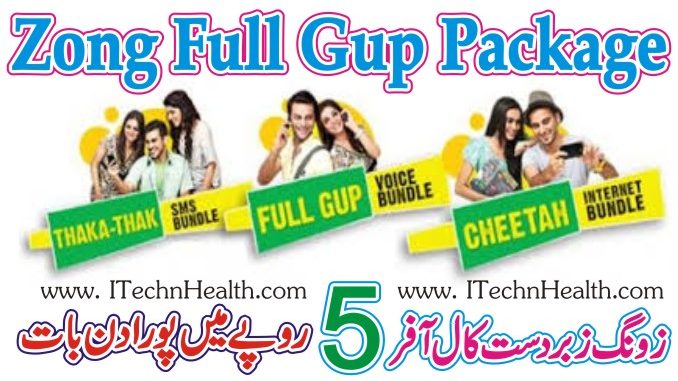 Zong Full Gup Package –Zong Pora Din Free Baat Package Detail
Zong has introduced new Zong Full Gup Offer for their customers. Zong full gup package will give you to make 75 on-net minutes, 100 SMS for any network and 30 MBs of mobile internet data in just Rs. 5 plus tax. Zong Customers can use these 30 Mb internet data bundle within same day mid night. Zong full gup bundle offer is introduced specially for students and it is best opportunity for them to do zong to zong calls and extra 30 Mb of internet for whats-app and 100 Sms just in Rs. 5+tax.

How to Subscribe Zong Pora Din Call Offer
To subscribe Zong full gup package dial 118*1#.
How to UnSub Zong Pora Din Call Offer
To Unsub Zong full gup package send message to 1181.
How to Renew Zong Pora Din Call Offer
Offer is renewed daily upon expiry at mid-night automatically.
Subscription Charges
The subscription charges of Zong Full Gup Daily Prepaid Bundle Offer are just Rs.5 + tax.
Offer Validity
The validity of this offer is till 12AM of the same day of subscription.
Terms & Conditions
The offer will be auto-recursive, provided customer has sufficient balance

Call set up of Rs 0.15 inc. tax will be applicable on every call

Withholding tax of 14% applies on recharge/bill

19.5% Sales Tax is applicable on usage in Punjab, KPK & Baluchistan. 19% Sales Tax is applicable in Sindh. 18.5% FED is applicable in rest of Pakistan and AJK.

Data services are exempt in Punjab, Federal, AJK and Sindh up to 4 mbps. Data services are taxable in Sindh with speed greater than 4 mbps as well as in KPK and Baluchistan as per applicable rates.
Zong Super Student Bundle- Zong Introduces Super Student Bundle in Just Rs. 5
Zong Student Packages- Zong Introduces Student Bundle in Just Rs. 3
Ufone Internet Packages Daily, Weekly, Monthly Prices and Unsubscribe Code