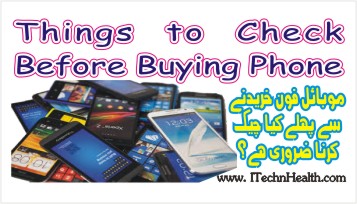 Things To Check Before Buying A Phone
Android phones are becoming more popular every day, Android phones are powerful, attractive, and easy to use. Here are the key features to consider when you are buying a new Android phone.
Tips on Buying Android Phone
Operating System
What OS do you want? The two main ones are iOS and Android.  iOS is the world's most advanced mobile operating system and is easier to use, while Android is available on more phones and offers more freedom to the user than iOS does. Find out what version of the Android OS it will be running when you buy it, and ask the carrier when (or if) it will be updated to a newer version.
Keep the OS in mind. If you want to go through the 'old way' then symbian is for you. iOS is still the most smooth OS However, Android is not far behind either and considering the fact that Android phones offer even

more features and are considerably cheaper, the decision really depends on you.
Processor and RAM
How much of memory is exclusively allocated for installation of apps other than media?  Is it 8/16/32/64 GB Model?  Is it Single core, Dual-core or Quad-core? How much RAM does it offer. Is it 512 MB, 1 GB or 2 GB? Your phones total performance is based on these two factors. The processor and RAM.  Every good Android phone must have at least 1 Ghz processor with at least 512 Mb RAM to run smoothly. Take a phone with better processor and RAM.
 Design and Build Quality
One of the most important things to consider when looking at a phone's design is whether or not it includes a full keyboard. Many of today's Android phones are touch-screen-only devices, iPhone and a lot of Nokia phones (like the N8, N9, Lumia 800) offer outstanding build qualities.
Screen  & Resolution
What size is it?  An important features to consider when looking at a phone's design are screen size and resolution. Currently most people like 3.5 and 4 inch screens. Also don't forget about the pixel density. iPhone and Samsung Galaxy Nexus are the phones that currently offer the most pixel densities  If you want, you can make the screen size even

bigger, to 5 or even 7 inches through Samsung Galaxy Note and Samsung Galaxy Tab.  A bigger screen may mean a bigger phone, and a bigger phone may be hard to slip into a pocket. A bigger phone also can be uncomfortable to hold next to your ear during lengthy phone calls.
 Camera
Front and Rear? Resolution? Optics? Clarity? Noise Reduction? FPS? No of shots per second? recording a video etc have to be considered.  All Android phones differ slightly do the cameras they offer. Some Android handsets offer 3-megapixel cameras while others pack in 8 megapixels. Some offer front-facing cameras for video conferencing, while others only offer rear-facing cameras for capturing photos and videos. And while all Android phones will record video in addition to capturing still photos, not all do so in HD. Make sure that the handset you choose has the camera you need.
If you want a phone for taking snaps, then it must have at least 5mp camera and HD video too if you make videos as well. Its recommended that the camera should be auto focus too. Phones such as Nokia 603 are not only cheap but also have good cameras.
Battery Life 
What is the capacity of the battery? For how long does it run on voice calls, while using 3g, 4g LTE, wifi, GPS, continuous video playback?
There are some dual-core phones with extremely high-end specs and completely poor battery life. It might not seem a big deal but your phone is nothing more than curved, beautiful brick without good battery life. There are some phones such as Motorola Droid Razr that come with a huge 3300mAH battery which are ideal for you if you use your phone a lot.
4G Service
What connectivity options are available? 3G, 4G or 4G LTE? Android phone is whether or not it supports the newer, high-speed 4G networks. But not all Android phones support 4G. Make sure that Android phone you want supports 4G.
Software and App
How many apps does it have in its particular application store?  Applications are one of the biggest reasons people buy smartphones. iPhone OS (iOS) currently offers the most applications on any mobile platform. Android offers a large number of free applications. The Application library of Windows Phone 7 is growing too. If you don't want apps, then Palm OS and Symbian will fare you well too.
 Finally you can also keep in mind about gaming performance and Wireless charging.
Things To Check Before Buying A Phone In Urdu