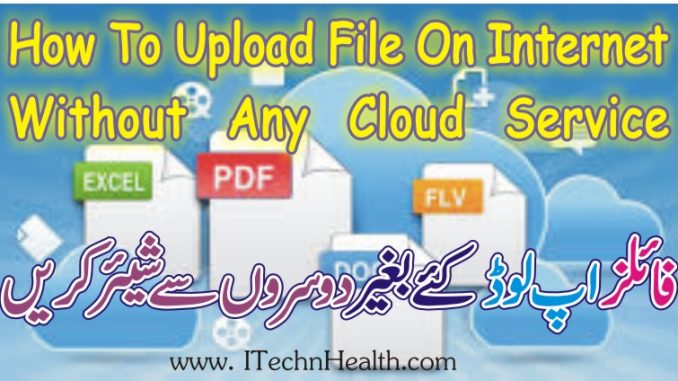 File sharing is the ability to send and receive files from one computer to other computer using a live network connection. Computer networks allow you to share information with friends, family, coworkers and customers. There are different methods and networking technologies available to help you share files. Some of them are listed below:-
File Transfer Protocol (FTP) is an older but still useful method to share files on the Internet. A central computer called the FTP server holds all the files to be shared, while remote computers running FTP client software can log in to the server to obtain copies. Web browsers like Google crome, firefox need to be configured to run as FTP clients. Security access options can also be set on the FTP server requiring clients to supply a valid login name and password.
A variety of cloud storage services available that offer file transferring services to its user free on cost. You may need an account before avail these services. Some of cloud storage service are listed below.
This is Google's free cloud storage service, and every Gmail account gets 15 GB of storage. You can access it at drive.google.com by logging in with your Gmail account.
This is an independent cloud storage service. Free accounts come with 2 GB of storage, which can be increased through referrals. You can sign up at dropbox.com.
Unlike the other cloud storage services here Mediafire geared more towards sharing files as opposed to storing them. Free accounts come with 10 GB of storage, with ads on any download links you share. Free accounts no longer have a file-size restriction (it used to be 200 MB). You can sign up at mediafire.com.
You could, of course, email the file, but email is an insecure medium, and if the file you want to share is larger than 10-15MB you may it rejected by your email provider.
The obvious solution is a direct file share. Here in this post I am sharing a software that have ability to share files without uploading them in any cloud network. The name of this software is O&O FileDirect. It's a beautifully simple tool that creates a secure web link from any file you drag on to it, which you can then share via email, social media or by copying to the clipboard. This link, when clicked on, opens a secure web page with a simple download link for the recipient to access through their own web browser (no extra software required). Nothing is stored in the cloud, and the file can't be accessed by any other means. This software makes it possible to share an unlimited number of files without having to load them in the cloud network. This method of file sharing give you complete control over who gets to see your files.
O&O FileDirect

 makes it easy to share files and folders with an unlimited number of recipients. To share files with this method you need simply drag and drop the file that should be shared. O&O FileDirect then generates an individual link that you send to the contact to whom you want to share the file. The recipient doesn't need to install O&O FileDirect in order to download the file. The recipient needs only the link that O&O FileDirect generates and a current browser. You can also decide whether the link will be available for an unlimited number of days, or you can limit it by number of days and number of downloads. You can manage  all of your previously shared files from under the Shared Files tab and remove them from being shared.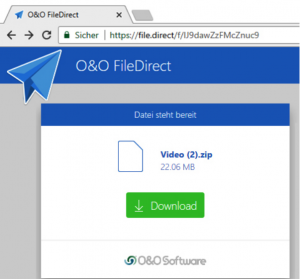 [AdSense-B]

FileDirect allows you to share as many files as you like – switch to the Shared Files tab to see any other files you've previously shared, complete with stats showing the number of downloads and time since the last download was completed. Roll your mouse over a file to reveal options for deleting the link, opening the file location or copying the link to the clipboard; simply click a file to move it back to the 'Create Link' tab for further editing.
O&O FileDirect is a simple way to share files directly from your PC compared to first uploading them on the cloud. This is simpler than running a FTP server on your PC and does not require any difficult configurations either.
File Sharing on Computer Networks- cloud storage service- which file sharing is right-File sharing easy method-how to share large files through internet- FTP File Transfers Method-how to share file using FTP File Transfers-how to use google drive-
Google Drive-how to upload file using Mediafire-how to upload files-easy method to upload files
انٹرنیٹ کے ذریعے فائلز شیئر کرنے کے لیے ضروری ہوتا ہے کہ پہلے یہ فائلز ڈراپ باکس یا گوگل ڈرائیو پر اپ لوڈ کریں۔ پھر اس لنک کو شیئر کر کے فائلز کسی دوسری جگہ ڈاون لوڈ کی جاسکتی ہیں۔ لیکن اب فائلز کو اپ لوڈ کیے بغیر براہ راست اپنے کمپیوٹر سے شیئر کرنا بھی ممکن ہے۔ اس کے لیے آپ کو ایک پروگرام کی ضرورت ہوتی ہے۔ اس پروگرام کا نام ہے "اواینڈاو فائل ڈائریکٹ"

  اس پروگرام کو آپ نیچے دئے گئے لنک سے مفت ڈائون لوڈ کر سکتے ہیں۔ڈائون کرنے کے بعد آپ آسانی سے کسی بھی فائل کو ڈریگ اینڈ ڈراپ کر کے شیئر نگ کر سکتے ہیں۔ جیسے ہی آپ کسی فائل کو ڈریک کر کے اس میں شامل کریں گے تو یہ پروگرام فوراََ    ہی اس کا ایک ڈاون لوڈ لنک بنا دے گا۔  اور یہ لنک آپ جس کسی کو دے گئے وہ براہ راست آپ کے پی سی سے اس فائل کو ڈاون لوڈ کر سکتا ہے۔
ڈاون لوڈ لنک
Whatsapp Rolling Delete Everyone Feature-وٹس ایپ پر آپ دیلیٹ شدہ میسج کو دوبارہ پڑھ سکتے ہیں
Math Tables And Math Quiz Games For Kids -Tables from 1 to 20 for Kids
Download MP3 Quran With Urdu Translation-Al-Quran-Pro-Android-Application
Download Multi National New Year Calendar 2018-Italian-Norweqian-Prtuguese-Swedish-Dutch-German-Spainish-Danish-French Calendar 2018
Download Calendar 2018 with Public Holidays-Esawi Calendar 2018
Computer And Smartphone Repairing Video Game- Computer Repair Simulator
How To Protect Wireless Router-Wireless Router Security Check App