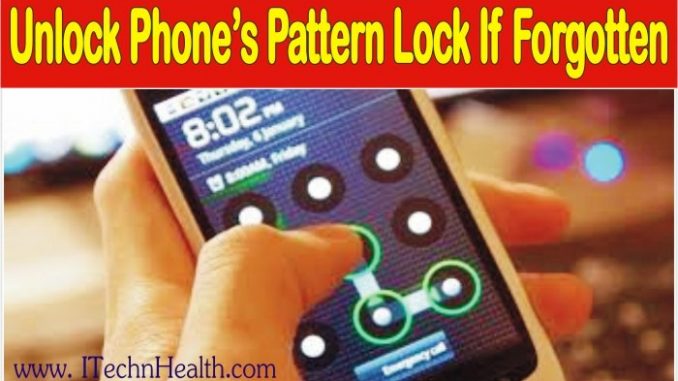 The Pattern Lock helps you to keep your device from unauthorized use but a headache begins while you forget it. Pattern lock is really significant for those who have sensitive data or hold personal files on their Android devices.
In this article, I will going to tell you two simple methods of unlocking your android devices if you forgot your pattern lock and would like to know How To Bypass Pattern Lock on Android & Tablet?
When you forget your pattern lock code you will try different patterns but not able to unlock your phone's pattern lock in five times then a message display to shows 2 push buttons "next" and "try again".

Click on "

Next" Button

and you will have two choices for unlocking your phone's pattern lock.

The first one is to answer the security question and the second choice is to enter

Google account or Gmail ID

.

Generally, people do not set a security question. But if you set it then simply answer the question and unlock your phone's pattern lock rapidly.

If you don't have security question answer then Enter the

Google Account username

and password you previously added to your device and click on "sign in".

Just in a few seconds, you will be directed to select a fresh pattern and now you can unlock with this pattern lock.
If you forget your Google account username and password then we have a trick for this simply follow steps to know How To Unlock Android Phone Pattern Lock Without Gmail Power off your Mobile.
Press and hold Volume up, Power and Home Button 

altogether

and wait until your Mobile

When you see logo screen Leave The Power Button and keep pressing the other two buttons.

After a few seconds, your screen will show

A

ndroid System Recovery

in the form of a list.

Use

Volume Up and Down Keys

to select an option from the list and select factory reset option and so press the power button.

Now it will ask you for confirmation, select

"Yes"

.

After factory reset completes, it will show you android system recovery screen again, Now select reboot option and yes you have successfully Bypass Pattern Lock on Android & Tablet.
Be careful before using method # 2 because this method erases all your data and apps.
How To Unlock Android Phone Pattern Lock If Forgotten-how to unlock android pattern lock if forgotten-how to bypass android lock screen using camera- how to unlock android phone pattern lock without gmail-universal unlock pattern for android-bypass android lock screen without reset 2019-how to unlock android phone pattern lock if forgotten-how to bypass lock code on phone-how do i unlock my phone if i forgot the pattern
How To Get Free Internet Free Internet Tips 100% Working Trick 2019
Easiest Way To Transfer Files Between Computer And Phone In Urdu