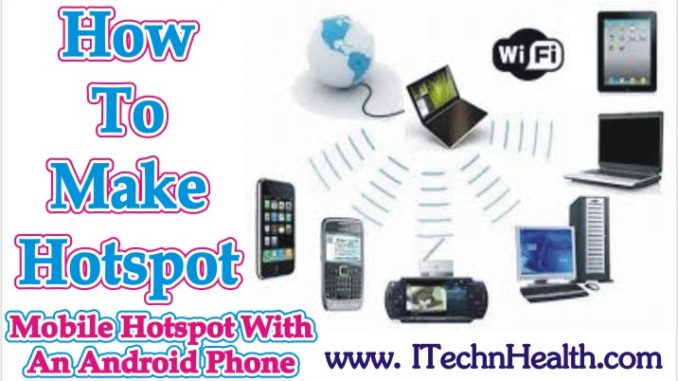 How To Create A Wi-Fi Hotspot – How to Use Your Android Phone as a Portable Wi-Fi Hotspot- Wireless Hotspot 
You can use your computer as a wireless hotspot. This allows other devices to connect to your computer without a separate network. If your computer has a connection to the internet other than wireless, you can use the wireless hotspot to share your internet connection with other devices.
Many Android smartphones and tablets can be used as mobile hotspots  (portable Wi-Fi hotspots), letting you share your internet connection on your Android device wirelessly with up to 5 other devices, including other cell phones, tablets, and computers. The Wi-Fi data sharing feature is built into Android devices.
Find and Connect to the New Wi-Fi Hotspot Created
1. From each of the other devices
you want to share Internet access with,
find the Wi-Fi hotspot
; this will probably be done automatically for you. Your computer, tablet and smartphones will notify you that there are new wireless networks to connect to.
2. If not, you'll find the wireless networks under
Settings > Wireless & Networks > Wi-Fi settings
.
3. Finally,
establish the connection
 by entering in the password.
Some Useful Tips While Using Mobile Hotspot
Make sure you turn off the Wi-Fi hotspot feature when you no longer need shared Internet access from the other devices, since this can juice your cell phone's battery significantly.
By default, the portable Wi-Fi hotspot will be set up with WPA2 security and a generic password. If you're using this feature in a public place or concerned about hackers trying to intercept your data, it's best to change the password to something else before broadcasting your signal.

 A single wireless adapter can only connect to or create one network at a time.
The range for the mobile hotspot is about 30 feet. Items such as walls and tornados can interfere with the signal, rendering it much shorter.

A wireless network name (SSID) and security key are automatically generated. The SSID is based on the name of your computer. Other devices will need the SSID and security key in order to connect to the hotspot you've just created. If you wish to, you can change the SSID
How To Create A Wireless Hotspot
How to Use Your Android Phone as a Portable Wi-Fi Hotspot- Wireless Hotspot