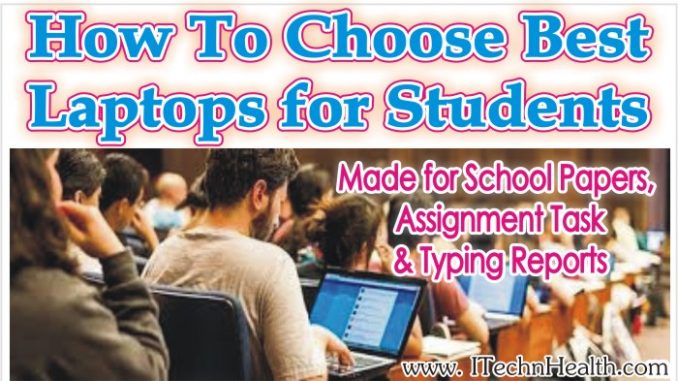 How To Choose Best Laptops for Students-Made For Everything from School Papers to Assignment Task and Typing Reports
These days, many students start advancing in elementary school and doing serious homework, they may need to have laptops, too. There are many laptops out there, and some are better for your kids than others. I am rounded up several picks worth your attention for a kid friendly laptop.
Tips To Buy a Laptop for Students
Chrome OS, Windows or macOS which one is best for students? The answer is Chrome OS is popular with schools, because it is easy to use and nearly impossible to infect with a virus. If your kid is learning how to program, needs to edit media files, requires access to Microsoft Office or wants to play PC games, Windows or macOS is a much better choice. For children under 12, get a laptop with an 11.6-inch screen that weighs under 3 pounds. For teens, a 13- or 14-inch laptop that weighs up to 4 pounds is acceptable. Buy larger laptops only if you plan to keep them at home. Don't spend over $500 on a laptop for a child under 12, because they may break it.
Lenovo Ideapad 110S  Price $155 
This 11.6-inch Windows 10 notebook is a barebones machine with basic functionality. Its touchpad is smaller than most, which kids will appreciate, and its keys are comfortable and responsive, making it a great mini laptop for typing reports. It's equipped with a 1.6-GHz Intel Celeron CPU N3060,  RAM 2 GB and Hard Drive 32 GB, Intel HD Graphics Card, Wi-Fi, Bluetooth, Touchpad and 2.4 pounds weight. Although it has a mediocre eight-hour battery life, the Ideapad 110S is a nice-looking budget laptop that's still powerful enough to handle basic tasks. Operating System Windows 10 Home.
Asus Chromebook C202  $185
The Asus Chromebook C202 is a great kid's laptop. A spill resistant keyboard will provide parents even more peace of mind. Lightweight at 2.65 pounds and has 10 hours of battery life, Intel Celeron N3060 processor, 16GB of storage, 4GB of RAM and has an 11.6-inch 1366 x 768 anti-glare display. Additionally, as a Chromebook, parents won't have to contend with potential viruses that could come from other computer platforms. Parents will also discover a slew of parental controls that can limit visits to certain websites, add screen time limits, as well as block potentially harmful extensions to Chrome that could compromise the computer experience.
HP Stream Price $200 
The HP Stream is a bright little laptop and comfortable to use. It operating system is Windows 10 with an Intel Celeron CPU, Display 11.6 inch, 1366 x 768 Resolution, 2 GB of RAM, 32 GB Hard Disk Storage space and eight hours of battery life. The HP Stream has a solid design, and it provides everything a student need to accomplish basic tasks, like internet browsing and writing reports, for a fair price of around $200. The HP Stream 11 isn't as plain as you might expect. The speakers and battery life are excellent for the price, and it's not bad-looking either.
Lenovo's Ideapad 100S Price  $214
Lenovo's Ideapad 100S laptop is a fantastic laptop for kid's and at a price that parents are sure to love. The 100S offers an 11.6- inch 1366 x 768 display, 2GB of RAM, an Intel Atom processor and 32GB of eMMC memory. It weighs 2.2 pounds, is .69 inches thin and manages to pack in just under 10 hours of battery life. The 32GB of eMMC storage won't allow for a whole lot of music or video downloads, but, with Windows 10 and Office support, kids will have no trouble fitting in schoolwork.
Acer Chromebook R11 Convertible Laptop Price $250 
The 11.6-inch touch screen of the Acer Chromebook R11 Convertible has a 360-degree hinge, and its battery can last up to a robust 10 hours on a single charge. Intel processor, a plethora of connectivity options, and 32 GB of expandable storage,  weighs less than 3 pounds.
Acer Aspire E Price $350 
This low cost laptop is perfect for kids. It has a colorful HD display, an impressive 9 Hour battery life, the best battery life for the price, built-in optical drive DVDS and a Intel Core i3 processor. Acer Aspire is an affordable laptop the only disadvantage of this laptop is its weight. Its weight is around about 5 pounds which is difficult for little children to carry with. Acer Aspire E 15 E5-575G-57D4 is the most portable 15-inche laptop. The Acer Aspire E 15 has a satisfactory sound system. The keyboard on the Aspire E 15 offers a decent typing experience. The backlighting on the keyboard is also a nice touch.
Dell Inspiron 11 3000 Laptop (2-in-1 convertible) Price $400 
An affordable laptop Inspiron 11 3000 has an 11.6-inch touch screen it can easily transform from a laptop to a tablet. 7th Generation Intel processor, 500 GB hard drive, Windows 10 Operating System, 11's 1366 x 768 display, best battery life that lasts up to nine hours on a single charg. There are several colors to choose from, including red, gray, blue, and white. The Inspiron 11's keyboard is decent considering the price. The Inspiron has a solid sound you can check it even in a large conference room.
Samsung Chromebook Plus Laptop (2-in-1 convertible) Price $450 
The Samsung Chromebook Plus impresses with a 360-degree touch screen, support for Android apps via the Google Play store. Lightweight 2.34-pound, 12.3-inch display with 2,400 by 1,600 pixels, Octa-Core Processor, 2GB RAM and a Duo of USB-C ports. The Samsung Chromebook Plus combines the strengths of a laptop, like a stable hardware keyboard, with a tablet's light weight and responsive touch screen. It can easily transform from a laptop to a tablet. Run Android apps, in addition to the browser-based ChromeOS.
Microsoft Surface Pro 4 Laptop (2-in-1) Price $621 
The Microsoft Surface Pro 4 is a bit pricey but it's an powerful and versatile Windows 10 2-in-1 laptop. Display 12.3-inch touch screen and a bundled stylus pen.
Dell Inspiron 7000 13-inch Laptop Price $780 
The Dell Inspiron 7000 is an excellent Windows 10 2-in-1 laptop with an all-metal body, powerful Intel processors, and a crisp 13-inch display with a 360-degree hinge. The latter allows the notebook to transform from a laptop to a tablet or to a content-viewing platform with a simple twist. There are many hardware configurations to choose from, but even the entry-level one is plenty capable.
Samsung Notebook 7 spin 13.3-inch Price $800 
The Samsung Notebook 7 spin has a beautiful 13.3-inch Full HD LED-backlit touch screen that rotates 360 degrees. An Intel processor, robust storage options, and up to 10 hours of battery life make the notebook one of the most capable picks in this roundup.
 Apple MacBook Air Price $1,099
Apple MacBook Air is easy to use, dependable, and incredibly secure, and it has an exceptional 12-hour battery life. Display 13 Inch, Processor 1.6GHz to 1.8GHz, lightweight  Solid State" SDD hard drive.
How to choose Best Laptops for Students-Best Laptops for Kids-Best Laptops for Students- kid friendly laptop- Chrome books-The Best Kid-Friendly Tablets for Every Budget- Windows 10 notebook- Best Overall laptop- Best Budget laptop- Chrome OS, Windows or macOS which one is best for students- Tips to Buy a Laptop for Students
Driverpack Latest Update Works on Windows XP, Vista, 7, 8, 8.1, 10,