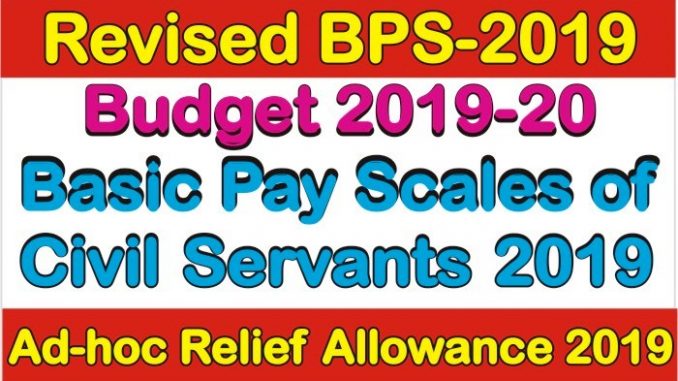 Budget 2019-20 is expected to be announced on June 2019. All Government employees have a question in their mind.  How much salary increase in Budget 2019-20? 
We have come to know through some reliable National Newspapers some News about  salary increase in Budget 2019-20 are as under:- 
Merging of existing 03 Adhoc Allowances in Basic Pay. 

(Adho Allowance 2016, Ahdoc Allowance 2017 & Adhoc Allowance 2018)
Medical allowance will be increased in budget 2019-20. Due to heavy increase in rates of medicines "Medical Allowance should be increased in this budget.
Conveyance Allowance will be increase in budget 2019-20.
Computer allowance will be raised.
Special allowance for disable persons will be increase.
It is requested to Govt. of Pakistan to increase the pay & allowances as the low paid employees are badly suffered by inflation as well as increase pension of lower grade Govt. pensioners, so these lower grade employees fight with their life by increase pay & pension in budget 2019-20. Government should increase salary as they are increase oil, electricity, gas and other household things.
Basic Pay Scales should be revised by merging previous Adhoc relives in current Basic Pay Scales and also 25% Adhoc Relief 2019 should be given on revised pay scales 2019.
Salaries of all Govt. employees should be equal. The difference of salaries in various departments should must be addresses.
Time scale policy should be allowed to all departments where no promotion in service.
Educational increments should be restored.
Medical allowance 2019 should be increased @ 100%.
Due to increase in petroleum things Conveyance Allowance 2019 must be increased at least 50%.
Keep slabs of  existing Income tax detection rate.
Utility allowance will be given to all Govt. employees. Utility, computer and additional qualification allowance must be the part of each employee.
House Rent 2019 rate must be increased as per new BPS rates currently the House Rent allowance is being given 45% on the basic pay of 2011.
All Government employs are requested here to participate the topic and write their comments so that their voice reaches to the Ministry of Finance, Govt. Of Pakistan before Budget 2019-20.  
An Ad-hoc Relief allowance 2019 @ 10% of the running basic pay of BPS-2017 shall be allowed to the civil employees of the federal government as well as civilians paid out of defence estimates including contingent paid staff and contract employees, employed against civil posts in basic pay scales on standard terms and condition of contract appointment with effect from 01-07-2019 till further orders.
The Ad-hoc relief allowance 2019 will be subject to income tax. The Ad-hoc relief allowance will be admissible during leave and entire period of L.P.R except of during extra ordinary leave.  The ad-hoc relief allowance 2019 will not be treated as part of emoluments for the purpose of calculation of pension or gratuity and recovery of house rent 2019.
The Ad-hoc relief allowance 2019 Not be treated as part of emoluments for purpose of calculation of Pension/Gratuity and recovery of House Rent. The allowance will be admissible during the period of suspension.
Revised pay scales has been sanctioned by President with effect from 1st July 2019 for the employees of the Federal Government, paid out of civil estimates and from defense estimates as detailed in the following.
The Basic Pay Scales 2019 shall replace the Basic Pay Scales 2017 with effect from 01-07-2019. The basic pay of an employee in service on 30-6-2019 shall be fixed in Basic Pay Scales 2019 on point to point basis. In case of Personal Pay being drawn by an employees as part of his/her basic pay beyond the maximum of his pay scale on 30-06-2019, he continued to draw such pay in the Basic Pay Scales 2019 at the revised rates.  Annual increment shall continued to be admissible subject to the existing conditions on 1st December each year.
Here you can download Revised Basic Pay Scales 2019 chart.
Coming soon
Here you can download Revised Basic Pay Scales 2019 Calculator to calculate and fix your pay.
Coming soon
Prize Bond Lucky Number Through ilum ul adad, Prize Bond Wining Method
Revised Basic Pay Scales 2019 chart -Revised Basic Pay Scales- Revised Basic Pay Scales 2019- Revised Basic Pay Scales 2019-20- Ad-hoc Relief Allowance 2019- Revised Basic Pay Scales 2019 Calculator- Annual budget 2019-20-revised basic pay scale 2019-20 chart-pay scale chart 2019-revised pay scale 2019-20-basic pay scale chart 2019-revised pay scale chart 2019-20-revised pay scale 2019-20 chart-pay scale chart 2019-20-pay scale chart 2019-20 pdf- Adhoc Relief 2019 Chart on Running Basic Scale 
footer disalbe