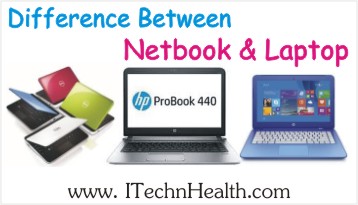 Difference between Netbook and Laptops 
What is Netbook?
Use Here in Netbook is a generic name given to a category of small, lightweight, legacy-free, and inexpensive laptop computers.  A netbook is a device that can perform the majority of the functions of a desktop or laptop. The first netbooks were incredibly light at just over two pounds when a traditional laptop was weighing around five pounds. Netbooks were originally developed back in 2007 as a new class of personal computer system. After few years, the features and price of the netbooks continued to climb in price while laptop prices continue to fall and get better performance. Here in this post i will share the difference between Netbook and Laptops.
The first netbooks used relatively small 7-inch screens. Since then, the screens have been getting progressively larger. Most new laptops that would be considered netbooks feature screens with a ten to twelve inch size. It should be noted that they often are not touchscreens and have lower resolutions one again to keep the costs down.
Is a Netbook a Computer?
[AdSense-A]Yes, A Netbook is a wireless, portable personal computer The tablet form factor is typically smaller than a notebook computer, but larger than a smart phone. Netbook let you do many of the same things as a traditional computer. A Network service providers offered plans for data cards so users could plug into the netbook and browse directly on a mobile device network.
Recently, the idea of extremely affordable and compact laptops has risen again with a number of companies essentially releasing systems that share many of the traits of netbooks but without that specific name.
Difference between Netbook and Laptops 
Netbooks are primarily mobile Web browsing tools. They do not have some of the functionalities offered by a desktop or laptop,

Netbook have  smaller screens and keyboards, and offered reduced computing power when compared to a full-sized laptop.

Netbooks have ranged in size from below 5″ screen diagonal to 12″. A typical weight is 2 pounds while a traditional laptop was weighing around five pounds.

Netbook are not designed for speed but more for power efficiency. They need enough processor performance to handle basic computing tasks such as web browsing, email, word processing, spreadsheets and basic photo editing.

Netbooks were originally some of the first personal computers to use Solid State Drives or SSDs are becoming much more common with mobile computers.

Netbook still have the disadvantage of not offer a much storage space as traditional hard drives. As a result, most netbook class laptops generally have storage capacities of roughly 32 to 64GB of space.

They use less expensive drives that offer lower performance than standard SATA based drives found in many laptops.

The typical netbook style laptop is often ship with a 32-bit version of Windows rather than 64-bit because the netbook class laptops feature just 2GB of memory and the smaller 32-bit software executable take up less space and memory.

A Netbook have price around $200 while a laptop price was generally over $500, the gradual price increases on netbooks and the decreasing costs of traditional laptops meant that the systems were fated.

Notebook can sometimes be difficult to work on, especially when putting together a business presentation or remotely complex assignment. However, a Laptop familiar layout and relatively advanced functionality make it an ideal for business presentation.

Finally, If you are thinking of getting a netbook computer, look very carefully at the hardware requirements of any software you intend to run on it. Netbooks prove ideal for students. practical learning tool that students can easily carry around. From elementary school to college, students will find netbooks are easy to manage, organize and perform school-related tasks.
Many major netbook producing companies stopped producing them by the end of 2012. Many netbook products were replaced on the market by Chromebooks, a variation on the network computer concept in the form of a netbook.
Difference between Netbook & Laptops 
You can also see my posts