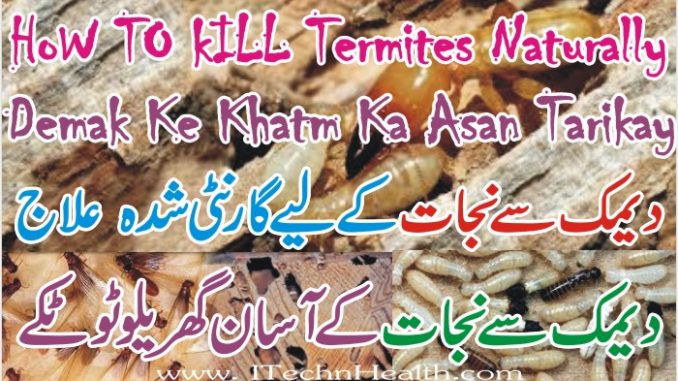 Termites are colony pests that come in different types. Termites can appear in any plant or wood materials like door, windows, wooden cabinet. The termite is specifically designed to tear away tough cellulose materials, but they will feed on a book just as easily as they'll feed on cabinetry.
There are many ways to kill termites. Here are some best homemade remedies to kill termites naturally.
Salt can be an effective and natural method to kill termites. To kill Termites with salt you have to fill a jar with equal part of salt and warm water. Take a syringe and fill in with salty water. Inject it into all the affected areas. Termites will die out of dehydration within few days, if not repeat this procedure one more time.
Orange oil is very effective to kill Termites. To kill termites with orange oil, drill a small hole in the infested wood and pour the oil into the hollow spaces. Results will be seen within three to five days.
Sunlight is the most cost effective way to kill termites. Termites like darkness and once exposed to light and heat can help in sweeping them off. For example, if your table or chair is infested, you can take them out in sunlight and leave it for two to three days under sunlight. It will kill termites immediately and you can easily save your furniture from Termites.
Deemak ko khatam karney ka aik tariqa ye hay k karrva tabbaco "Hukkay" main daal lain aur asu pani  main matti ka tail dal kar bhigo kar rakh dain aur dosry ya taisray din jab tabbaco nay sara tail pi lia wo ya jazab kar lia how tu phir is main kuch aur tail dal dain aur takreeban aik week bad wo tail mix kar kay hilla kar Deemak wali jag pe spray kar dain. Is tariqa se Deemak katam ho jaye ge.
Agar kisi dewar pe bout zida Deemk ho tu sab se peley aus dewar se  deemak ko achi tara khurrch lain aur saaf kar lain. Phr ye mixture (jo upper pehan ho chukka ha) wahan kisi be bursh ya roai say wahan laga lain jahan say deemak sharu ho wahn jar main thora sa gilla tabbaco dal dain. Inshallah ye amal aik martaba krny say he deemak say nijaat mil jaiy gi.
Deemak agar Zameen, Podown, Lakri ko bout zida karab kar rahi ho tu Deemak say nijaat ka tariqa ye ha k  aik adad ount(camel) ki haddi lay kar jahan deemak ho wahan zameen main garrh dain, takreeban 6 inch lambi haddi ho, choota bhe ho to koi harj nahi. Is tariqa se aus zameen aur wahan mojood plants and flowers ko kabi b deemak nai lage ge. Darkhat, phool, ghaas ya lakari wagaira jo bhe ho cheez deemak say mutasar ho mahfooz ho jaiy gi Insha Allah.
Demak ke Khatmay ka Asan Tarika-Dewaar par Lagi Deemak ka Totka- Deemak Ka Khatema- Deemak Ka Ilaj in Urdu-Termite Ka Ilaj- How To Kill Termites  In Urdu- Deemak ya Termite ke Upay In Hindi- Dewar Ki Deemka Katam Karney Ka Tariqa-Deemak Say Nijaat Ka Tariqa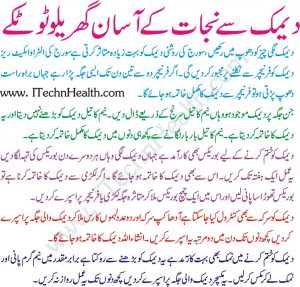 دیمک ایک کیڑا ہے جو کالونی کی شکل میں رہتا ہے اس کی غذا لکڑی ہے اس لیے یہ پودوں اورلکڑی میں پائی جاتی ہے۔ جس لکڑی میں بھی دیمک لگ جاتی ہے یہ اس کو پوری طرح ختم کردیتی ہے۔ دیمک کئی قسم کی ہوتی ہے لیکن اس میں سب سے عام لکڑی کی دیمک ہے جو لکڑی سے بنی چیزوں میں ہوتی ہے ۔ یہ دیمک گھر سے باہر اپنا ڈیرہ جماتی ہیں ۔لیکن پھر زمین کے اندر چھوٹی چھوٹی سرنگیں بنا کر گھروں میں داخل ہوجاتی ہیں۔ 
   دروازے یا کھڑکیوں کا رنگ پھولاہوا یا چٹخا ہوا نظر آئے تو اس کا مطلب ہے کہ دیمک لکڑی کو اندر سے کھاتے ہوئے رنگ کی سطح تک پہنچ گئی ہے۔ دیمک کا کوئی موسم نہیں ہوتا اور یہ سال کے کسی بھی حصے میں حملہ آور ہوسکتی ہے۔ دیمک کے آثار گھر میں نظر آئیں تو فوری طور پر دواؤں اور فیومیگیشن کا استعمال کرنا چاہئے۔ لیکن اگر آپ ان دواؤں سے الرجک ہیں تو ان کے علاوہ دوسرے طریقوں سے بھی دیمک سے نجات پاسکتے ہیں ۔آج میں آپ کو ایسے ہی کچھ طریقےبتاوں گا جن کی مدد سے آپ دیمک سے ہمیشہ کے لیے نجات پا سکتے ہیں چاہے دیمک فرنیچر پر ہو ، دیواروں پر ہو یا پھر کچن کی الماریوں پر ہر جگہ سے دیمک بالکل ختم ہو جائے گی۔
آیوڈیکس جو چوٹ کے لیے استعمال ہوتی ہے۔ جہاں دیمک لگ جائے وہاں اگر آیوڈیکس لگا دیں تو دیمک ختم ہو جاتی ہے۔ جب کبھی دوبارہ دیمک لگے تو پھر اس جگہ پر آیوڈیکس لگا دیں۔ اس سے آپ کا فرنیچر، لکڑی کی الماریاں، کچن الماریاں وغیرہ دیمک سے محفوظ رہتی ہیں۔
دیوار کو اچھی طرح صاف کریں پھر اس دیوار کو مٹی کے تیل سے گیلا کریں جب خشک ہو جائے تو موٹر سائیکل سے نکلا ہوا موبلائل جو کہ استعمال شدہ ہو دو حصے اور ایک حصہ مٹی کا تیل ملا کر تمام جگہوں پر لگا دیں۔ اس کے لگانے سے کئی سال تک دیمک دوبارہ نہیں لگے گی۔
   اگر کسی دیوار پر بہت زیادہ دیمک لگی ہو اور کسی طریقے سے بھی ختم نہ ہوتی ہو تو اس کا علاج یہ ہے کہ کڑوا تمباکو حقے میں ڈال کر حسب ضرورت لے لیں اور اس میں مٹی کا تیل ڈال کر بھگو کر رکھ دیں اور دوسرے دن اگر تمباکو نے سارا تیل پی لیا ہو  تو اس میں دوبارہ مٹی کا اور تیل ڈال دیں ایک ہفتہ اس تمباکو کو تیل ہی میں رہنے دیں ا یک ہفتے کے بعد دیوار کو پہلے کھرچ کر اچھی طرح سے دیمک سے صاف کر لیں پھر کسی برش وغیرہ سے یہ تیل متاثڑہ دیوار پر لگا دیں انشا اللہ ایک مرتبہ ایسا کرنے سے دیمک سے ہمیشہ کے لیے نجات مل جائے گی۔
جس جگہ دیمک لگی ہو وہاں پر اونٹ کی ہڈی تقریبا ڈیڑھ فٹ زمین میں گڑھا کھود کر دبا دیں، ہڈی کی لمبائی تقریبا 6انچ ہو۔ اس جگہ ایک ماہ تک پانی بالکل نہیں پڑنا چاہیے۔ اس عمل سے جہاں دیمک لگی ہو وہ ختم ہو جائے گی اور دوبارہ کبھی نہیں لگے گی۔اس ٹوٹکے سے درخت ، پودے وغیرہ دیمک سے محفوظ رہیں گے اور ہمیشہ سر سبز ہو جائیں گے۔
  صابن کا پانی دیمک کے خول پر ایک تہہ بنادیتا ہے جس سے ان کا سانس لینے کا نظام ختم ہوجاتا ہے ۔اور وہ مرجاتی ہیں۔ دو کھانے کے چمچ برتن تدھونے والا لکوڈ سوپ ۴ کپ پانی میں ملائیں۔ یہ سلوشن اسپرے بوتل میں ڈالکر متاثرہ جگہوں پر اسپرے کریں۔کچھ دن تک روزانہ یہ عمل دوراہیں تاکہ دیمک سے ہمیشہ کے لیے نجات مل جائے۔
Joron k dard ka ilaj, pathon ki kamzori ka ilaj In Urdu, Joints Pain Treatment
Gurde Ki Pathri Ka Desi Ilaj, Tib e Nabvi Tariqa Ilaj , Gurde K Dard Ki Dua In Urdu, Kidney Stone Removal Treatment
Wazifa For Week Eyesight- Nazar Ki Kamzori Ka Ilaj- Home Remedy For Week Eyesight In Urdu
Wazifa For Diseases of Heart, Wazifa for Heart Pain, Wazifa for Heart Attack, Dua for Heart
Home Remedy For Neck Pain Treatment In Urdu- Gardan Main Dard Ka ilaj
http://itechnhealth.com/hath-paon-ki-jalan-ka-ilaj-in-urdu/ http://itechnhealth.com/treatment-of-pimples-at-home/