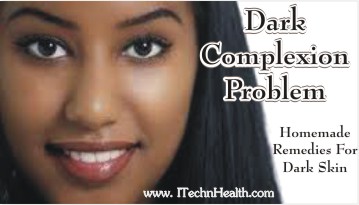 Dark Complexion Problem 
Question:
I am 23 years old and have a very dark complexion. I tried applying fairness creams to counter my complexion but they do not seem to work on my extremely sensitive skin. Please help me with this problem.
Answer: 
First of all, stop using the fairness creams, as they will cause ore harm to your skin than anything else at all. Massage your face with whole fat milk and rinse it with water twice a day for the purpose of cleansing. Use bland moisturizes 2-5 times a day to keep your skin looking fresh and healthy. Lastly, wear your skin with confidence and be thankful for what you have.
Causes of Dark Skin
In most instances, darkening of the skin is fairly harmless and is not a major cause for concern. Some of the most common factors that have been known to lead to discoloration or darkening of the skin include: Heredity factors, Over exposure to sun light for an extended period of time, Malnutrition or the lack of vitamins, Hormonal changes in the body, Use of certain medications.
Question:
I have a dark complexion and too having a problem of dark circle. Also pigmented skin.
Answer: 
Use a broad spectrum sunscreen both indoors as well as before going out. Sunscreen should be both uva and uvb protective. Always use your umbrella whether it is raining or not. Use a cap or a scarf or your dupatta to cover your head. Protect your eyes with a glares. Avoid scrubbing your face. Do not steam or sauna. If you swim, use a sunscreen prior to it and after. Avoid face cosmetics for the time being. Drink two liters of water every day.
Remedies for Dark Skin 
When it comes to treating dark skin or discolored patches on the skin, most health experts will advise you to first determine the factors that are causing the problem. In case your skin is producing too much melanin mainly due to simple factors like excess exposure to the sun, you may be advised to use simple home remedies to regain your original skin color. Given below are some of the most commonly recommended natural home remedies for dark skin: 
Mix one teaspoon of milk powder, a teaspoon of lemon juice, a teaspoon of honey and half a teaspoon of almond oil, to make a thick paste. Apply this on to the skin and keep it on for around 15 to 20 minutes, before rinsing it off with cold water. This not only helps reduce the effects of tanning and skin blemishes, but also gives your skin a natural radiance.
Add some plain oatmeal to unflavored yogurt and apply the mixture on to the affected skin. After around 20 minutes, wash the mixture off your skin with cold water. Some tomato juice could also be added to this mixture to increase its effectiveness.
Potato has natural bleaching properties, which is why it is excellent for lightening patches and blemishes as well as darkened skin. Cut a potato into thin slices and place them on the affected area for 20 to 30 minutes.
Take a bowl of plain, unflavored yogurt and add a few grated dry orange peels to it. This paste is very effective in getting rid of a tan and should be kept on to the skin for at least 15 minutes, after application.
Mint works wonders in lightening the skin tone and therefore, the paste of freshly ground mint leaves should be applied on to the skin for around 15 to 20 minutes, before being rinsed off. 
You can also use vitamin C serum as part of your night time skincare routine for brightening skin. It help you to fair your skin complexion.
You can also see my posts about skin whitening and treatment of pimples.
Make Skin Whitening Cream at Home | Fairness Skin Whitening Cream