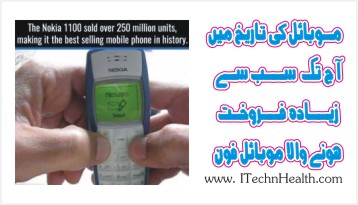 Best Selling Mobile Phone in History
What's the best phone you've ever owned? Is it  Samsung Galaxy S6?
The answer is Nokia 1100 is the world's best-selling handset. The Nokia 1100 sold over 250 million units, making it the best selling mobile phone in history. Some people can not believe this fact because they think iPhone are the best sellers of all time but I want to tell you that Nokia 1100 is best selling mobile in phone history.
Here Are Some Facts And Figures
Nokia 1100 -> No. of units sold till date = 250 millions.
Combined sales of iPhone 6 and 6+, iPhone 5 , till date = 238 millions.
This device sold more than 250 million units, that's more than any other phone in the world. The Nokia 11100 went on sale in 2003. It was an entry level handset that wasn't feature heavy but did have a torch and a dust-proof case.
Nokia 1100 The Best Selling Mobile Ever
The Nokia 1100 may not be as famous as the 3310, but it's the best selling mobile phone the world has ever known. Nokia sold their one billionth phone in Nigeria in 2005. The phone had capacity to store 50 messages, 50 contacts and had 36 pre installed ringtones. Battery life boasted 400 hours standby time. Its inverted screen, featuring white text on a black background, boosted it to sales of more than 250 million.
The 1100 is similar to the discontinued 5110/3210/3310 models that were among the most popular mobile phones in the world during their time, before handsets developed several new features such as cameras, polyphonic ringtones and colour screens.
The 1100 features a built-in flashlight. The 1100 and 1101 are only able to play monophonic ringtones,
20 Bestselling Mobile Phones Of All Time
S

r. No.

Manufacturer

Model

Release year

Unit Sole (Million)

1.

Nokia

1100

2003

250

2.

Nokia

1110

2005

250

3.

Apple

iPhone 6 & iPhone 6 Plus

2014-16

220

4.

Nokia

3210

1999

150

5.

Nokia

1200

2007

150

6.

Nokia

6600

2003

150

7.

Nokia

5230

2009

150

8.

Samsung

E1100

2009–12

150

9.

Nokia

2600 (2610/2626/2630)

2004

135

10.

Motorola

RAZR V3

2004

130

11.

Nokia

1600 (1650/1661)

2006

130

12.

Nokia

3310 (3330)

2000

126

13.

Nokia

1208 (1209)

2007

100

14.

Samsung

Galaxy S4

2013

80

15.

Nokia

6010 (6020/6030)

2004

75

16.

Apple

iPhone 5

2012–13

70

17.

Nokia

5130 (5220/5310)

2007

65

18.

Apple

iPhone 4S

2011–14

60

19.

Motorola

StarTAC

1996

60

20.

Motorola

C200

2003–06

60
Best Selling Mobile Phone in History